I love crockpot recipes! I love being able to throw all the ingredients in the crockpot in the morning and when I come home dinner is ready:) I work a lot of evenings with my day job because of the events that we host, so it is really convenient to have dinner ready at the time that my family likes to eat…no matter what time I get home. My Easy Crockpot Pulled Pork is a good one and very easy.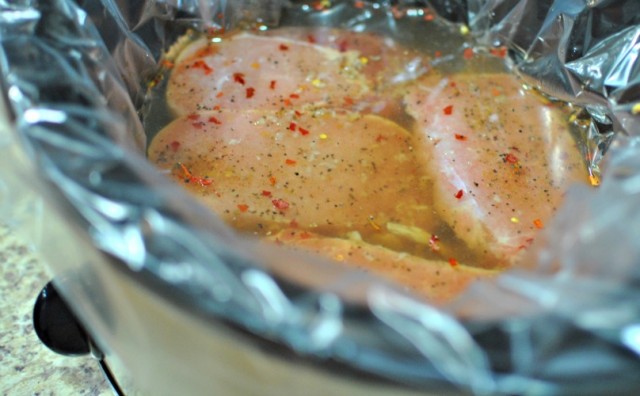 My Baking Addiction's  version of Easy Crockpot Pulled Pork uses a boneless pork butt or shoulder. Well, I didn't have a pork butt or shoulder in the freezer the morning that I was frantically trying to put this together before work but I did have a pack of lean boneless pork chops so I gave it a try. Man, did it work out well…
Start by placing a crockpot liner in your crockpot. This makes clean-up a breeze later. You just toss the bag!! My Baking Addiction also puts a rub on the pork but I didn't have time for that, so I just dumped the cider vinegar mixture right into the crockpot with my frozen pork chops and onions. I did have to thaw the pork chops just a bit so I could break one of them off. They didn't fit in my slow cooker until I did so.
Cook your pork for 8-10 hours on low or 4-5 on high. The pork will be so tender that it will literally fall apart. Add  about a cup of your favorite low-sugar barbecue sauce and stir and serve on your favorite bun. Add extra sauce if you like it saucy;)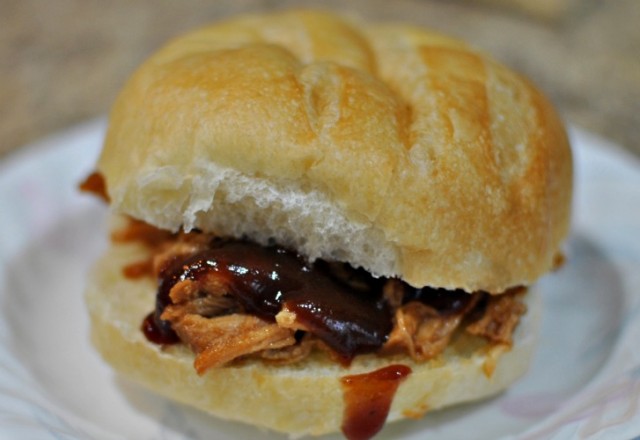 We can't have a meal without something green right? Of course not, so let's put together a summery salad. I live in Georgia, it is the peach state of course and I just happen to live about 10 miles from a little town that has two peach orchards. I recently visited one of these peach orchards and brought home a ton of peaches which are now put up in my freezer. So I thought how about a peach vinaigrette? That might be fun!
I got my inspiration from Grilled Peach Salad with Peach Cumin Dressing by A Farm Girl's Dabbles. I eat a TON of salad in the warmer months and LOVE to make homemade dressings. They are so simple, flavorful, cheaper and best of all healthier than anything that comes from a bottle. I love to experiment with new flavor combinations and this peach dressing is a WINNER!!!
The fresh flavors come together easily and quickly in your blender or food processor and I just love Brenda's idea of adding addition fresh herbs to your salad greens! It gives it even more layers of flavors.  Add some tangy feta cheese (which I love because a little goes a long way) and roasted pecans (which I get right from our pecan trees, so it is almost always my nut of choice) and you've got yourself one heck of a salad!!!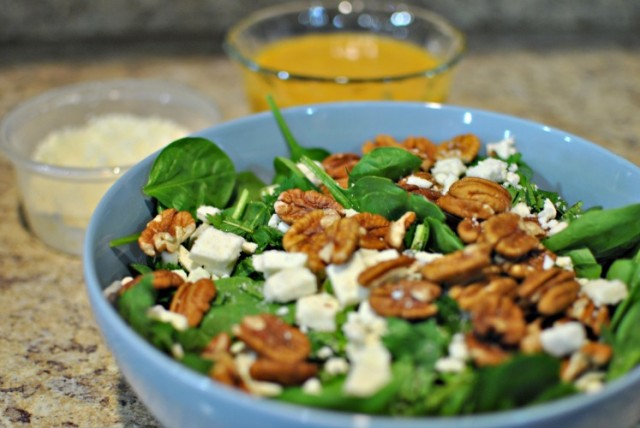 [nutrition-label id=384]

Easy Crockpot Pulled Pork Sandwiches and Spinach Salad with Peach Vinaigrette
Ingredients
Easy Crockpot Pulled Pork Sandwiches
1 large Vidalia onion, sliced thin
4 lean boneless pork chops
¾ cup cider vinegar
4 teaspoons Worcestershire sauce
1 tablespoon crushed red pepper flakes
3 cloves of garlic, minced
1 tablespoon dijon mustard
1 cup low-sugar barbecue sauce
Salt and pepper to taste
Spinach Salad with Peach Vinaigrette
for the Peach Vinaigrette
1 large ripe peach, peeled, pit removed, and diced
2 Tablespoons extra virgin olive oil
2 Tablespoons honey
2 Tablespoons freshly squeezed lime juice
1 tsp. lime zest
1 tsp. cumin
⅛ tsp. cinnamon
1 tsp. crushed red pepper flakes
Salt & pepper to taste
for the salad greens
8 c. spinach or mixed greens
¼ cup roughly chopped fresh mint
¼ cup roughly chopped fresh cilantro
¼ cup sliced roasted pecans
⅓ cup crumbled feta cheese
Instructions
Easy Crockpot Pulled Pork Sandwiches
Place slow cooker liner in the crockpot
Add sliced onion to the bottom of the pot
Add frozen boneless pork chops.
In a medium bowl, combine the cider vineagar, worchestershire sauce, crushed red pepper flakes, garlic, dijon mustard, salt and pepper.
Whisk to combine.
Pour the vinegar mixture over the pork and onions
Cook on low for 8-10 hours or high 4-5 hours.
Add one cup of your favorite low sugar barbeque sauce
Stir to combine and let it cook another 30 minutes or so for the flavors to combine.
Serve on a fresh bun
Spinach Salad with Peach Vinaigrette
For the vinaigrette: combine all ingredients in a blender or food processor. Chill until serving. This can be made well ahead of time.
For the salad: place the spinach or mixed greens in a bowl. Top with feta and toasted pecans. Serve along side the vinaigrette & diced tomatoes.