Protein Packed Blueberry Muffins add the protein power of greek yogurt and almond flour to the typical recipe. The result is moist, tasty and healthy muffin that will keep your appetite in check thanks to the added protein.
Last week was our annual lake vacation!! Yay!! So much fun 🙂 And now with a 9 month old and almost 5 year old in the family, it was non-stop but loads of fun!! As always, each couple took a day to prepare all the meals for that day. My boyfriend and I decided to do our Smokey Indoor Ribs and Creamy Cilantro Potato Salad that I shared with y'all last year again for dinner since everyone seemed to enjoy them so much. We couldn't have a lake vacation without me making my Santa Fe Chicken wraps, so I did that for lunch. I couldn't decide on breakfast though… We recently were lucky enough to get a TON of fresh blueberries from one of my dad's customers who is a farmer. I made a bunch into baby food for my nephew and then the rest we froze. So I wanted to do something with blueberries and everything that I could think of involved baking, but there was one tiny little problem…
I have a confession to make…I DON'T BAKE!!! This is because I cannot follow a recipe to save my life! I am always making substitutions and measuring…well that never happens either. With cooking this is usually okay, but with baking it is definitely not. My few failed attempts at baking have been, well epic fails! One of my sisters is a killer baker, so I usually leave all baking to here. I did consult with her on all of my substitutions for this recipe before attempting anything…
The inspiration for my Protein Packed Blueberry muffins came from a recipe called The Awesome-est Blueberry Muffins by Ree Drummond aka The Pioneer Woman.  Talk about a blog crush…Ree has not only an uber-successful blog, but she has a show (based on her blog) on the Food Network! What?!? But I digress, sorry, back to the muffins. I chose this recipe not because it was super healthy to begin with, but because I loved the idea of adding yogurt to a muffin! What a way to insure that your muffins come out super moist. And I thought, if you can use regular yogurt why couldn't you use greek yogurt!?!
Greek yogurt is all the rage right now and why not! It is so healthful and tastes delicious!! It is creamier and thicker than regular yogurt, with a very rich flavor. That's why it is such a good substitute in creamy dishes. It has 40% less sugar, 38% less sodium and nearly twice the protein of regular yogurt. It also packed with nutrients and delivers a myriad of health benefits. Check out this article on the Health Benefits of Greek Yogurt to learn more.
I just love greek yogurt and use is as a healthier substitute in any recipe that calls for yogurt, sour cream and even some creams. I ran a search on the blog and check out how many recipes I have used greek yogurt 🙂 That makes me smile 🙂 Some of my favorites are:
The other substitutions I made were to swap 2/3 of the all-purpose flour in the original recipe for almond flour. This bumped up the protein factor as well and lower the high glycemic load of the white flour. I didn't want to completely swap out the all-purpose flour as it would have made the muffins too heavy, but I guess it could be done to make these muffins gluten-free. Note that I said "guess it could be done," remember I am no baking expert here 😉
In addition, I used applesauce in place of the oil called for in the recipe. Not only did this substitution reduce the over all calories and fat of the muffins, but I think it also helps to keep the muffins moist and light. That's an easy swap that I have seen in a ton of baking recipes, so I knew I was safe with that one 😉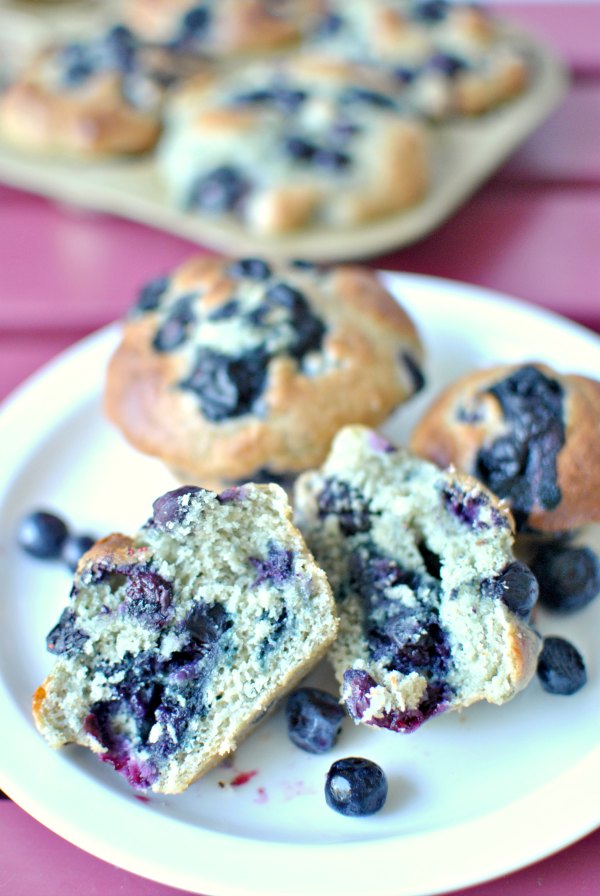 Here is the recipe and nutrition information for Protein Packed Blueberry Muffins
Protein Packed Blueberry Muffins
Author:
Becky's Best Bites
Ingredients
2 cups almond flour
1 cup all purpose flour
1 tsp. baking soda
2 tsp. baking powder
Heavy pinch of sea salt
1 tsp. fresh nutmeg, zested
1 cup sugar
½ cup applesauce
1 cup greek yogurt
2 cups fresh blueberries
1 tsp. vanilla extract
Non-stick cooking spray - butter flavor
Instructions
Pre-heat oven to 385 degrees.
Spray muffin pans with cooking spray. Set aside.
In a large bowl combine flours, baking soda, baking powder, salt and nutmeg. Set aside.
In another large bowl whisk sugar, applesauce, greek yogurt and vanilla extract. Slowly add the dry ingredients to the wet ingredients and stir to the count of 10.
Add blueberries, reserving ½ cup, and stir 3 times.
Add mixture to the muffin pans. Sprinkle reserved blueberries on the top of the mixture in the pans and slightly press down.
Bake 20-25 minutes or until cooked through and brown on top.
Cool for 5 minutes and remove from pans.
Store leftover muffins in an air tight container in the refrigerator.