Roasted Garlic White Chicken Pizza made in a slow cooker! Do I have your attention now?  Slow roasted garlic and chicken come together with a healthier version of a white sauce with red onion and cilantro sprinkled on top make a skinnyish pizza that the whole family will love. Best of all thanks to the slow cooker, it comes together in a snap.
I have a please make this group board on pinterest where I ask my family to pin recipes that they see on pinterest. I invite them to pin any recipes that they would like me make over so that it is healthier without sacrificing the taste. If you would like to be added to this board so you can pin, just leave me a comment below. I will be happy to add you.  The recipe for Roasted Garlic White Chicken Pizza showed up in my group board. It caught my eye and my stomach, so I thought I would give it a make-over and put my spin on it. The original recipe was pretty healthy but I knew I could take it up a notch. The easiest swap from the original recipe was to go to a whole wheat or whole grain pizza dough. I never use the pizza dough in a can, yuck! My local Publix sells fresh pizza dough in the bakery section. They have a whole wheat and 5 grain varieties. I love both, so I switch it up from time to time. If you don't have a Publix in your area, most supermarkets sell fresh pizza dough in the bakery. Sometimes you just have to ask for it.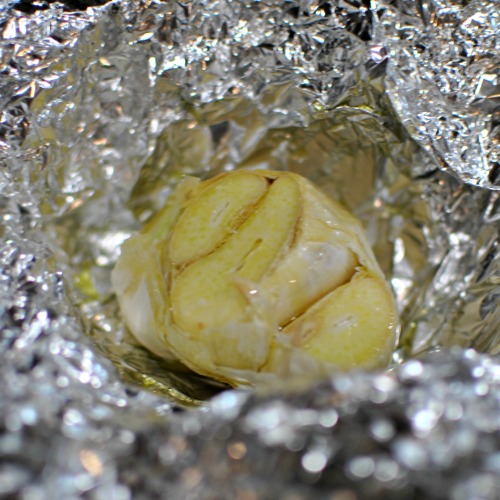 Don't ya just love garlic? I know that I do! I love roasted a whole head or sometimes two in the oven. I roast it low and slow to really enhance the flavors. I was planning on cooking my chicken for the roasted garlic chicken white pizza in the slow cooker and thought well why can't I throw the garlic in there too! The results were phenomenal!! My family said that this roasted garlic chicken white pizza was probably the BEST PIZZA that I have EVER MADE!! Which is a testament to just how good this was because I cook a lot of pizzas and that is probably because I LOVE PIZZA SO MUCH! (OK, I'LL stop with the ALL CAPS) 😉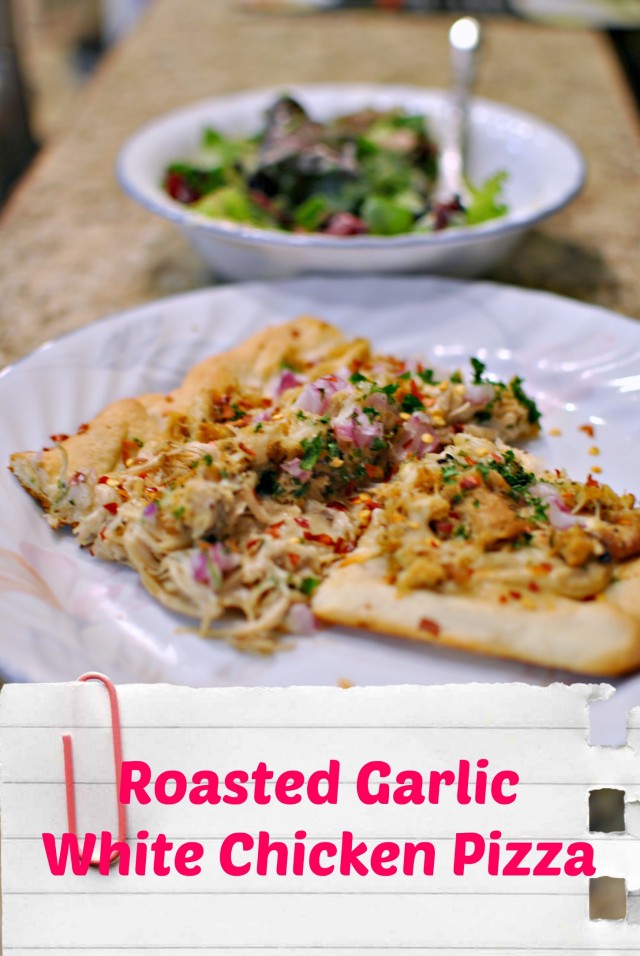 Roasted Garlic White Chicken Pizza
Ingredients
4 boneless skinless chicken breasts
½ cup reduced-sodium chicken broth
1 pound whole wheat pizza dough
2 tablespoon extra virgin olive oil, divided
1 tablespoon butter
1 head roasted garlic
2 tablespoons all-purpose flour
½ tsp fresh cracked black pepper
½ cup skim milk
¼ cup half and half
¼ cup Parmesan cheese
¼ cup red onion, diced
¾ cup Pepper Jack cheese
1 tsp fresh thyme, chopped
1 tsp fresh spicy oregano, chopped
1 tablespoon fresh cilantro, chopped
Instructions
Place frozen chicken breasts in the bottom of a slow cooker. Add the chicken broth to the chicken and sprinkle with salt and pepper. Cover the chicken with foil.
Cut the top off the head of garlic to expose all the bulbs. Place in a piece of foil and add 1 tablespoon of olive oil on the exposed bulbs. Seal tightly and place on top of the foil covering the chicken in the slow cooker. Cook on low for 8 hours.
After roasted for 8 hours in the slow cooker, remove the foil packet containing the garlic. Open the packet and let the garlic cool slightly. Shred the chicken and place on a plate and cover with foil to keep warm.
Preheat oven to 450 degrees. Cover a baking sheet with foil or grease and sprinkle with cornmeal.
Melt butter and remaining olive oil in a small saucepan over medium heat.
Add flour, and whisk until well blended. Cook for 1 minute.
Slowly whisk in the milk and half and half. Squeeze the roasted garlic right out of the head of garlic by carefully squeeze the head from the bottom and work towards the top. All of the roasted garlic should squeeze right out into the white sauce. Mix in the pepper.
Cook for about 3 minutes, or until it starts to thicken. Remove from heat, and stir in Parmesan cheese.
Roll out dough into a thickness of approximately ½ inch and place on a prepared baking sheet. Spread white sauce over the dough. Top with chicken, red onions and cheese.
Bake for 17 minutes, or until the crust is golden, and the cheese is melted.
Remove from the oven, sprinkle with herbs. Cut and serve immediately.