I hope y'all aren't getting tired of my slow cooker recipes, because here is another one: my Slow Cooker Italian Flag Chicken Pasta. They seem to be the most popular on my blog, so I thought I would keep them going. Let me know in the comments below whether you are or aren't loving all the slow cooker recipes. They just seem to work with my lifestyle. I've mentioned before that I work from 10-6ish pm at my day job, so it is very convenient for me to throw a slow cooker meal on in the morning before I leave the house.
So…I have been MIA for the past 10 days or so and I apologize for that, but I had a very good reason. What is that reason you ask? Well a pictures says a thousand words, right? So this is my reason: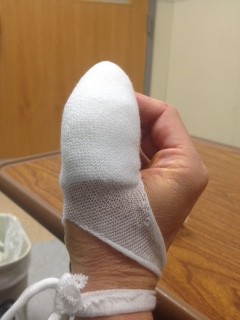 Yep that is my thumb underneath all that bandaging and yep that is me at my first trip to the ER ever! I bet you think that I cut my thumb with a knife and it was a cooking accident, right? Wrong! No this dummy cut her thumb with one of those machete-style paper cutters at my day job! Urg!! And to make matters worse, I damaged the nail bed so much that they had to take off my ENTIRE thumbnail!! I know you are cringing right now and believe me so was I! That is why I am only sharing the "after" photo. And it was my right thumb and I am right-handed…So anything to do with using my thumb has been too painful (typing, cooking, taking photographs, writing, etc., etc.) But it is on the mend now and I am still slower than usual and have to be very careful until it heals completely and the nail has grown back. I have heard that it can take from a couple of months to a year to grow back!!! DOUBLE URG!!
Ok, enough with my pity party and back to my recipe. My Slow Cooker Italian Flag Chicken Pasta is actually inspired by a recipe that I just love from Rachael Ray called Pesto-Presto Italian Flag Chicken. It is a recipe for stuffed chicken breast made with fresh pesto. Um…can you say, "Yummo!!" If you are a Rachael Ray fan, you will understand that last comment…
Slow Cooker Italian Flag Chicken Pasta
Slow Cooker Italian Flag Chicken Pasta combines lots of fresh basil in a chunky homemade tomato sauce for a healthy chicken pasta that is sure to please.
Author:
Becky's Best Bites
Ingredients
1 large sweet onion, chopped
3-4 cloves garlic, minced or pressed
1 lb. boneless, skinless chicken breasts
2 (14.5 oz.) cans diced tomatoes (or 3 cups undrained fresh tomatoes)
2 tbsp. tomato paste
10-12 fresh basil leaves, chopped
1 tbsp. fresh spicy oregano, chopped (or regular if you don't like spicy)
2 tsp. dried marjoram
1 tsp. crushed red pepper flake (more or less or omit if you don't like spicy)
1 cup no-sodium or low-sodium chicken broth
Sea salt and fresh cracked pepper to taste
16 oz. 100% whole wheat or gluten-free penne pasta
½ cup grated parmesan cheese
Instructions
Either spray extra virgin olive oil in the bowl of a slow cooker using a mister or place a slow cooker liner in the bowl.
Add onions and garlic, top with chicken breasts
Add tomatoes, tomato paste, basil, oregano, marjoram, red pepper flake, chicken broth, salt and pepper. Stir to combine.
Cook on low for 7-8 hours or on high for 3-4 hours.
minutes prior to serving, add the pasta and turn the slow cooker up to high.
When pasta is al dente, add parmesan cheese, stir and break up pieces of chicken (it will literally fall apart into shreds.)
Serve with a simple green salad or other green vegetable. Enjoy 🙂