Sponsored Post: This post is sponsored by DairyPure but the content and opinions expressed here are my own.  
Easiest Creamed Spinach is a quick, 5 ingredient, holiday side dish recipe. Spend more time making memories and less time in the kitchen this holiday season by focusing on the ease and convenience of simple recipes for your family meals. #DairyPureandSimpleHolidays #ad
I first made this creamed spinach for this past Thanksgiving (just last week…lol) and I was blown away by what a hit was!! As a part of our holiday traditions, for our holiday meals; my mom, sisters and I each have certain dishes that we always make! For me it is my mashed potatoes and some sort of green. I typically do either kale or collards that are sautéed in olive oil and garlic, but I decided to mix it up this year and try this easiest creamed spinach.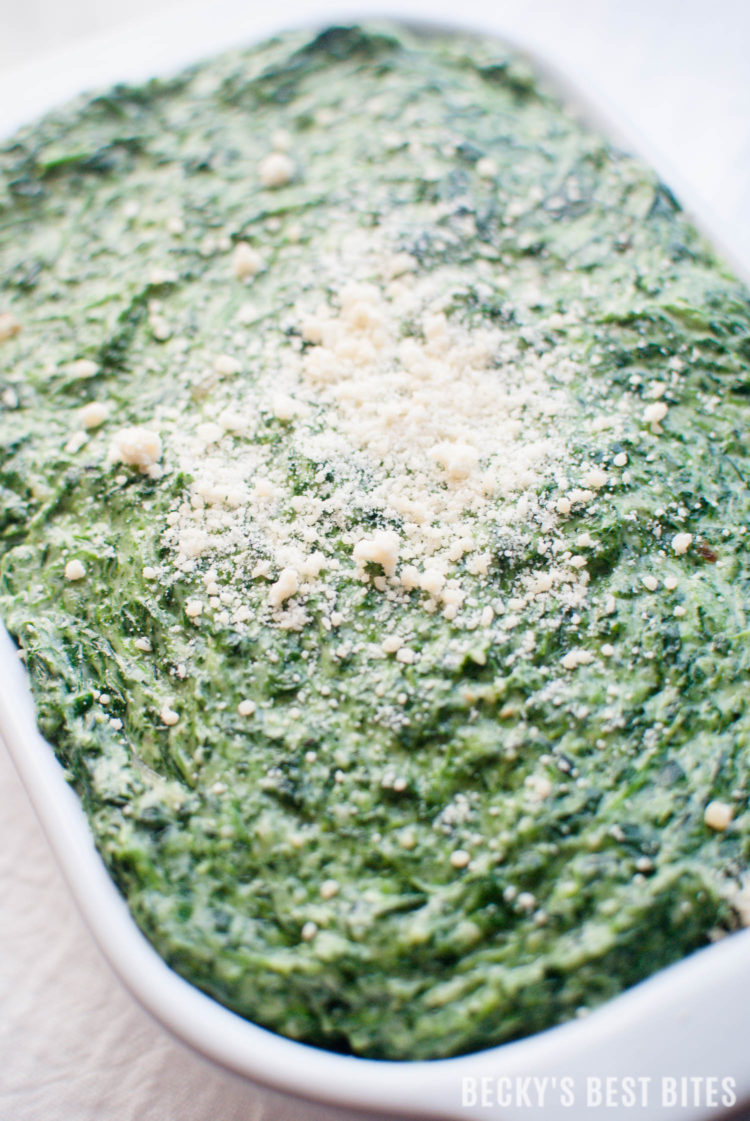 I can say that this easiest creamed spinach is a 5-ingredient recipe because I don't count salt and pepper. Am I right peeps?? I mean, I put salt and pepper in EVERY recipe/dish that I make 😉 Also…I really don't think that I should have to count butter and flour because they are pantry staples. So…go ahead and definitely use the two optional ingredients IMHO 🙂
The key ingredient to making this recipe rich and delicious without the need for a whole list of ingredients is the DairyPure Heavy Cream! Creams and milk are kitchen staples all year long, but they become even more important during the holidays. DairyPure creams and milk are fresh, pure and delicious, bringing a whole new dimension to desserts, coffee and even savory dishes. Dollop the Heavy Whipping Cream on desserts or add into recipes for savory meals.
I am serving my family DairyPure because they are the only farm-to- fridge dairy products backed by the exclusive Five-Point Purity Promise, DairyPure creams and milk contain no artificial growth hormones, are tested for antibiotics, are continually quality tested to ensure purity, only come from cows fed a healthy diet and are cold-shipped from your trusted dairy. This local sourcing is good for the environment, good for the local economy, and good for you!
Find more 5-ingredient recipe, product locator and coupons by visiting Dairy Pure Simple Holidays.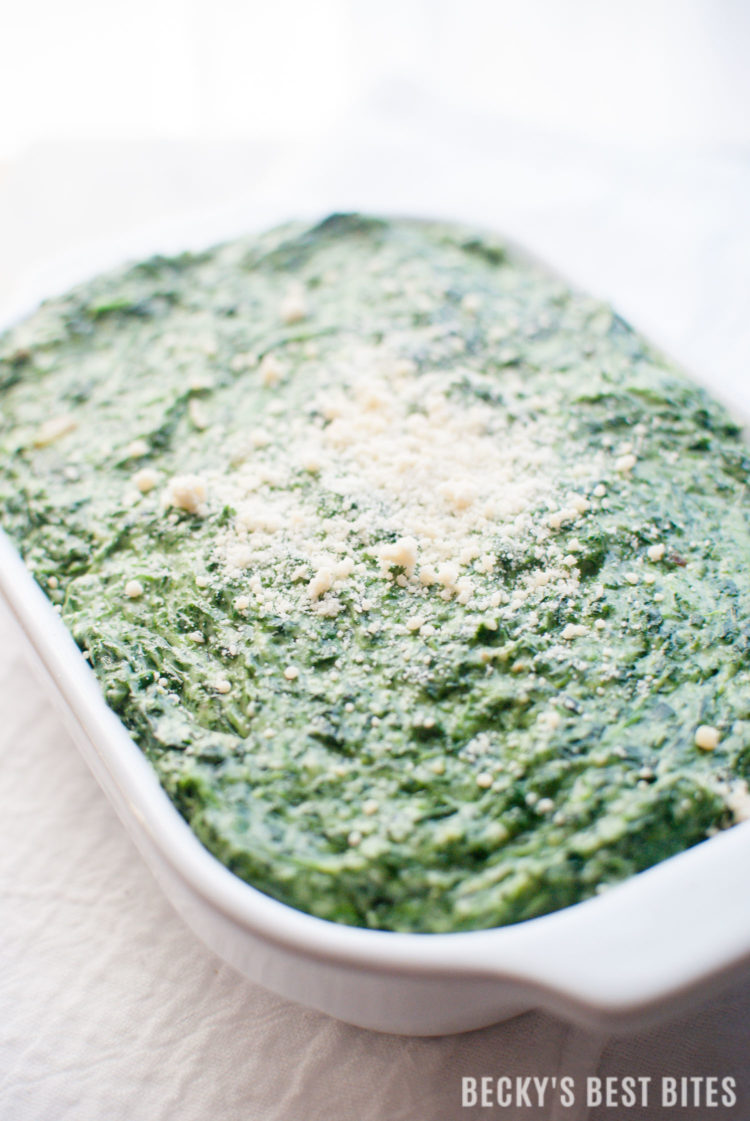 Here is your recipe for 
Easiest Creamed Spinach: 
Easiest Creamed Spinach
Author:
Becky's Best Bites
Ingredients
2 tbsp. butter
2 tbsp. shallot, finely minced
2 tbsp. flour
1 cup DairyPure Heavy Cream
2 (10 oz.) packages of frozen chopped spinach, thawed and drained
OPTIONAL
Sea Salt and fresh ground pepper, to taste
1 tsp. nutmeg
½ cup grated parmesan cheese
Instructions
Melt butter in a deep skillet over medium heat.
Once butter is melted, add minced shallot and sauté for 3-4 minutes or until soft and translucent.
Sprinkle flour and cook for 1 minute stirring constantly.
Slowly pour in Dairy Pure Heavy Cream and whisk to combine and thicken. Turn off heat.
Stir in spinach and optional ingredients (if using).
Pour into a serving dish or baking dish.
Enjoy!
Notes
Double this recipe if you are cooking for a crowd at the holidays!
I have also topped the creamed spinach (once in a baking dish) with shredded mozzarella cheese and put under the broiler to melt. YUMMY!!
This holiday season, DairyPure helps you keep meals and recipes simple! The brand is
sharing
simple five-ingredient recipes
– and they want to see your best five-ingredient
recipes too!  Share your recipes using 
#DairyPureandSimpleHolidays 🙂
Cheers to spending less time in the kitchen and more time making memories this holiday season!