This post is brought to you by Farmers to Families and The Motherhood. All opinions are my own.
Meat & Veggie Lovers Family Lasagna is the perfect recipe to please a crowd! Ground beef and sausage pair beautifully with garlic, onion, tomatoes, bell peppers, spinach and 3 types of cheeses to make a delicious freezer friendly & make ahead meal that will be requested time and time again.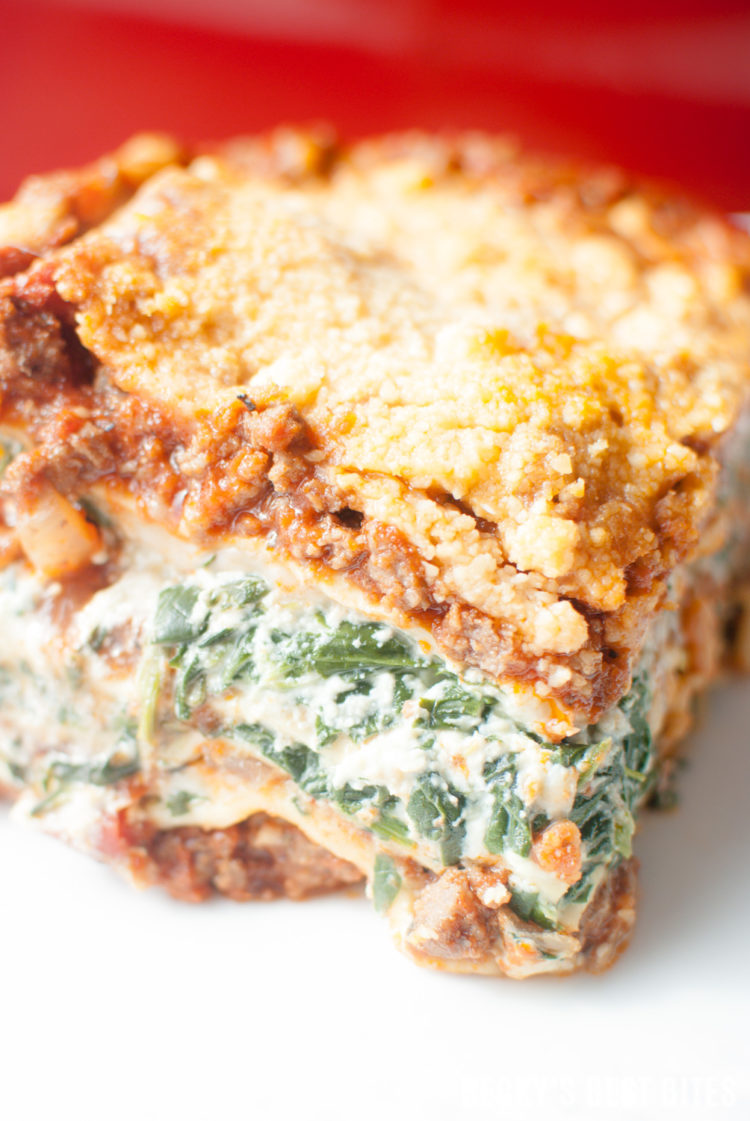 When I need to feed a crowd, a family lasagna is one of my go-to picks! Recently we were going to have the whole crew together (my sister's family was in town on their way to Florida from Alabama) and that meant that I was cooking for 13 so I knew that I wanted to make a lasagna. Since I am always looking for ways to add more veggies to our meals, I decided to amp up a classic meat lasagna with some yummy veggies! But I still wanted to keep rich meatiness and thanks to Farmers to Families, our freezer was stocked with a share of beef!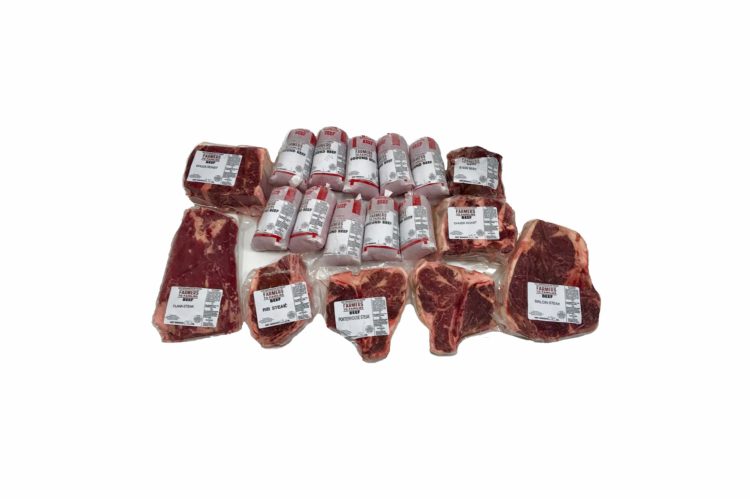 I have mentioned before that I live on my family's farm. It isn't a "working farm" any more but it was when my Great Grandfather was alive. He raised chickens and grew a variety of crops from corn to tobacco. I love that there still are family farms across the United States that are producing delicious products for American families as they have done for centuries. They are doing this by growing or sourcing locally and using family owned and operated butchers to process and package meat. I am so happy that this American tradition still exists and that I learned how Farmers to Families brings it directly to your door…connecting your table with the pasture.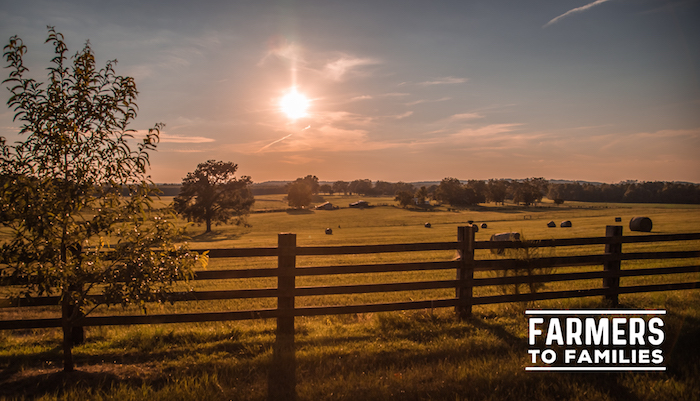 Let me introduce you to Farmers to Families! They offer single-sourced meat from their community of family farms. Single-sourced means that no matter what quantity you order, you will receive ONE animal straight from the farm!  In this day and age it has become increasing more difficult to know what you are eating and where it came from. That is why I love this simple solution: get your meat from the source and buy one animal so you know what you are eating.  Feel good about the healthy and honest meat that you are feeding your family – No Feedlots, No Industrial Processing Plants, No unnecessary Antibiotics or Hormones.
Ordering from Farmers to Families is extremely convenient, simple and best of all you will stock your freezer so you can feed your family for months without the constant grocery store trips! BONUS 🙂 They offer selections of beef, pork and sausage from a share to the whole animal. There is sure to be a fit for your lifestyle and budget.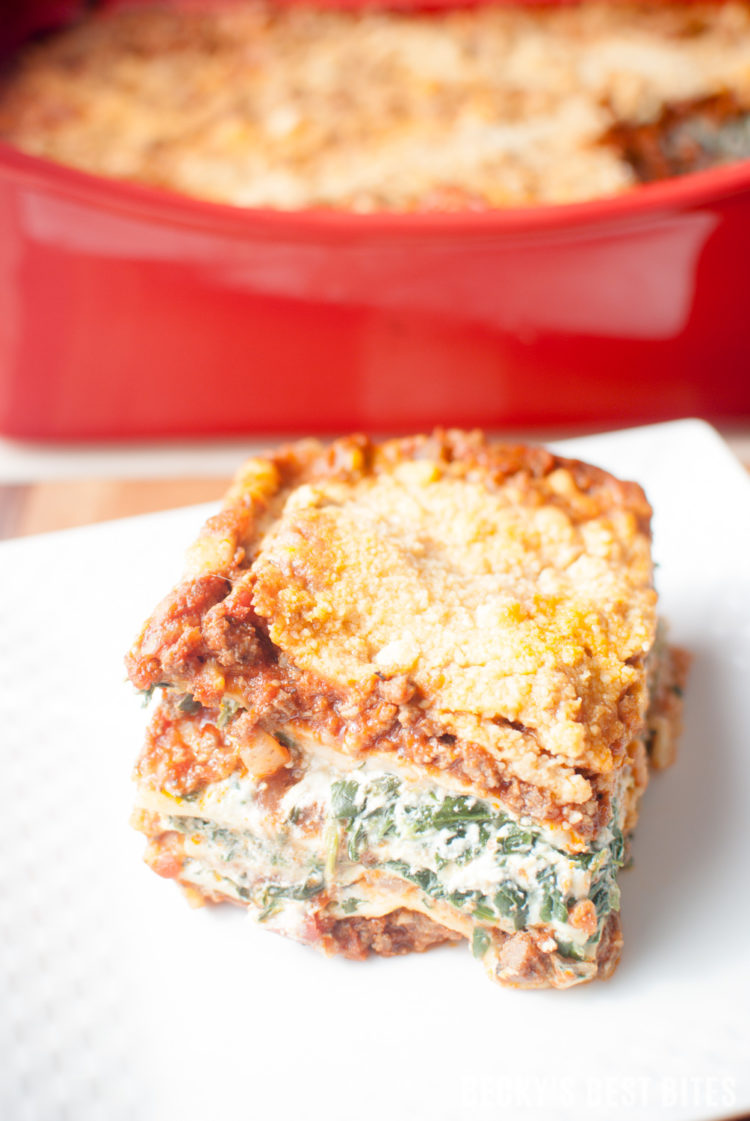 Ready to get back to this delicious Meat & Veggie Lovers Family Lasagna? Ya, me too!! I really think I might have outdone myself on this one 😉 It really was the best of both worlds! Lots of healthy veggies to make me smile and really the most incredible tasting meat from Farmers to Families! You can really taste the difference in their meat verses what we typically buy at the grocery store! So much more flavor!! We have cooked some of the steaks and a roast that they sent us as well…so yummy!! And this is coming from this veggie loving gal 😉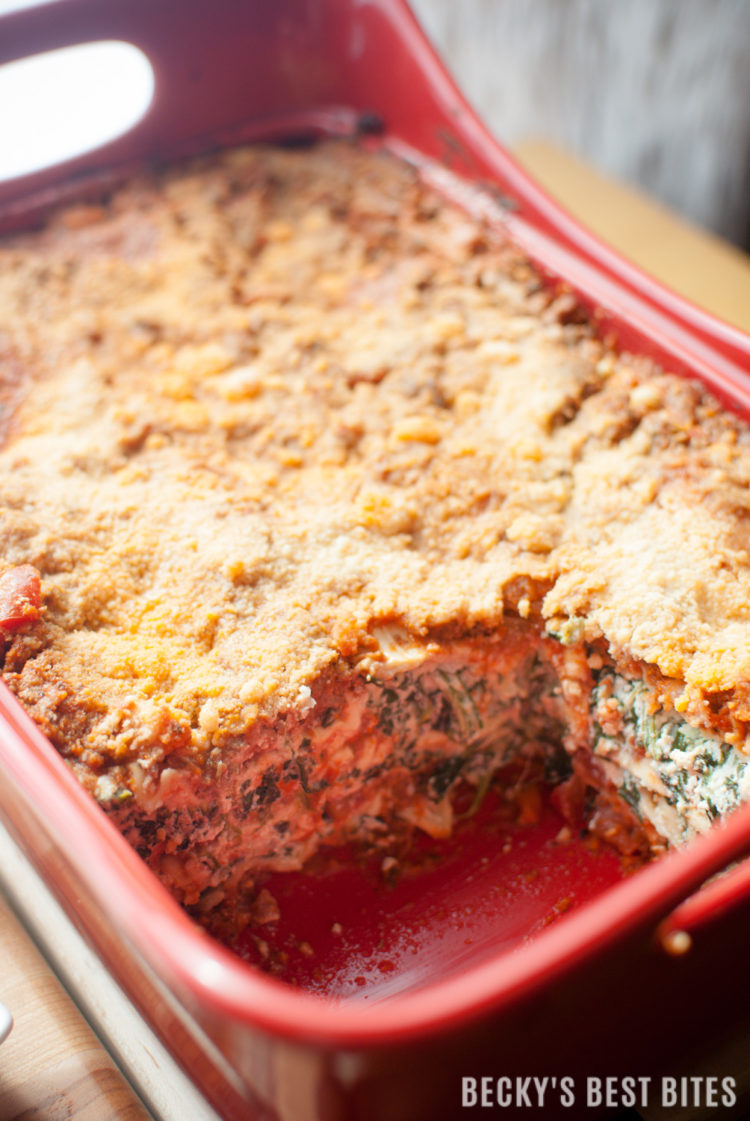 My giganto casserole dish was used one too many times and finally met its maker, so now I have this smaller one. I do love it but it doesn't hold as much as the giganto. This family lasagna really does feed a crowd, so I had to split it into two casserole dishes. You could easily freeze one for later, but we went ahead and cooked both!! The leftovers might be better than the original and I am not lying that we ate on it for a week!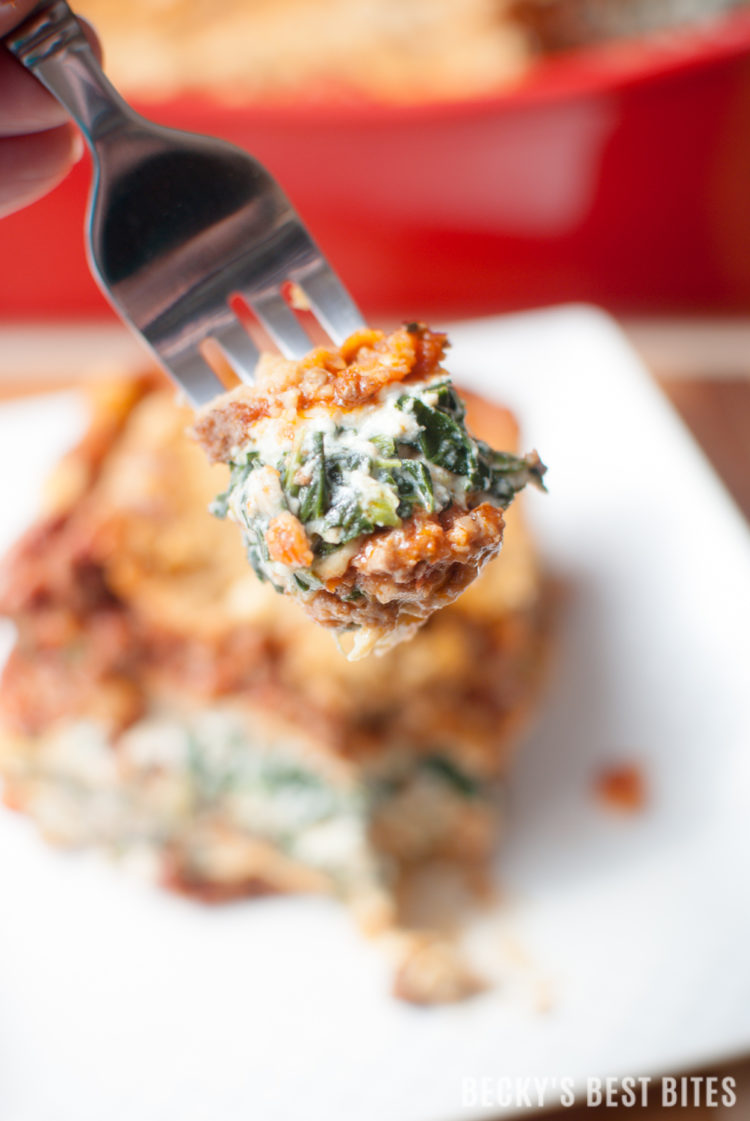 Don't you want to dig in???
Here is your recipe for Meat & Veggie Lovers Family Lasagna:
Meat & Veggie Lovers Family Lasagna
Meat & Veggie Lovers Family Lasagna is the perfect recipe to please a crowd! Ground beef and sausage pair beautifully with garlic, onion, tomatoes, bell peppers, spinach and 3 types of cheeses to make a delicious freezer friendly & make ahead meal that will be requested time and time again.
Author:
Becky's Best Bites
Ingredients
2 tbsp. extra virgin olive oil
1 large sweet, yellow onion, chopped
3-4 cloves garlic, pressed or minced
1 medium red bell pepper, seeded and chopped
1 medium orange bell pepper, seeded and chopped
2 lbs. ground beef
Approx. 1 lb. Sweet Italian Sausage
1 can (15 oz.) fire roasted diced tomatoes
2 jars (24 oz. each) Marinara Sauce (I used a four cheese variety)
2 tsp. dried marjoram
2 tsp. dried basil
Sea salt and fresh ground pepper, to taste
1 container (32 oz.) ricotta cheese
2 boxes (10 oz. each) frozen chopped spinach, defrosted and drained well
1 large egg
1 box oven ready lasagna noodles
4 cups shredded mozzarella cheese
½ cup grated parmesan cheese
Instructions
Spray either two medium or one extra large, deep baking dishes liberally with nonstick cooking spray. Set aside.
Preheat oven to 375 degrees F.
Heat a large skillet over medium-high heat.
Once hot, add onions, garlic and bell pepper to pan.
Sauté for 3-4 minutes or until onions are turning translucent and peppers have softened.
Add ground beef and sausage to the pan and cook until no pink remains. Break up the meat as it cooks.
Add diced tomatoes, marinara sauce, marjoram, basil, salt and pepper to the meat mixture, stir to combine and heat through. Turn off heat.
In a medium mixing bowl, combine ricotta, spinach and egg. Stir until well combined.
Begin assembling the lasagna by adding a ladle-full of sauce to the bottom of the baking dish.
Cover with 3 sheets of noodles, then about 1 cup of the ricotta mixture and about 1 cup of the mozzarella cheese.
Continue this process for 4 more layers.
The top layer will be the remaining sheets of noodles and sauce topped with parmesan cheese.
Cover with foil.
If freezing or making ahead: stop at this point. Freeze or refrigerated as needed. When using defrost or let come to room temperature before baking. You might need to add an additional 10-15 to baking time, as needed.
Bake for 25-35 minutes or until bubbly.
Remove foil and cook another 5 minutes to brown the top.
Remove from oven and let rest for 15-20 minutes before cutting.
Please be sure to learn more about Farmers to Families' single-sourced meat by visiting their website –> 
https://farmerstofamilies.com/
 Remember that no matter how many pounds you order, it will come from ONE animal that can feed your family for months.  You can stock your freezer, save time, money and most importantly gain peace of mind that your family is eating Pure Honest Meat.