Quick Chicken-Corn-Potato Chowder is a healthy and easy comfort food recipe for those chilly fall and winter nights. Creamed Corn is the secret ingredient to the rich flavor without adding any butter or cream. Make a double batch and freeze to have an even easier meal on hand!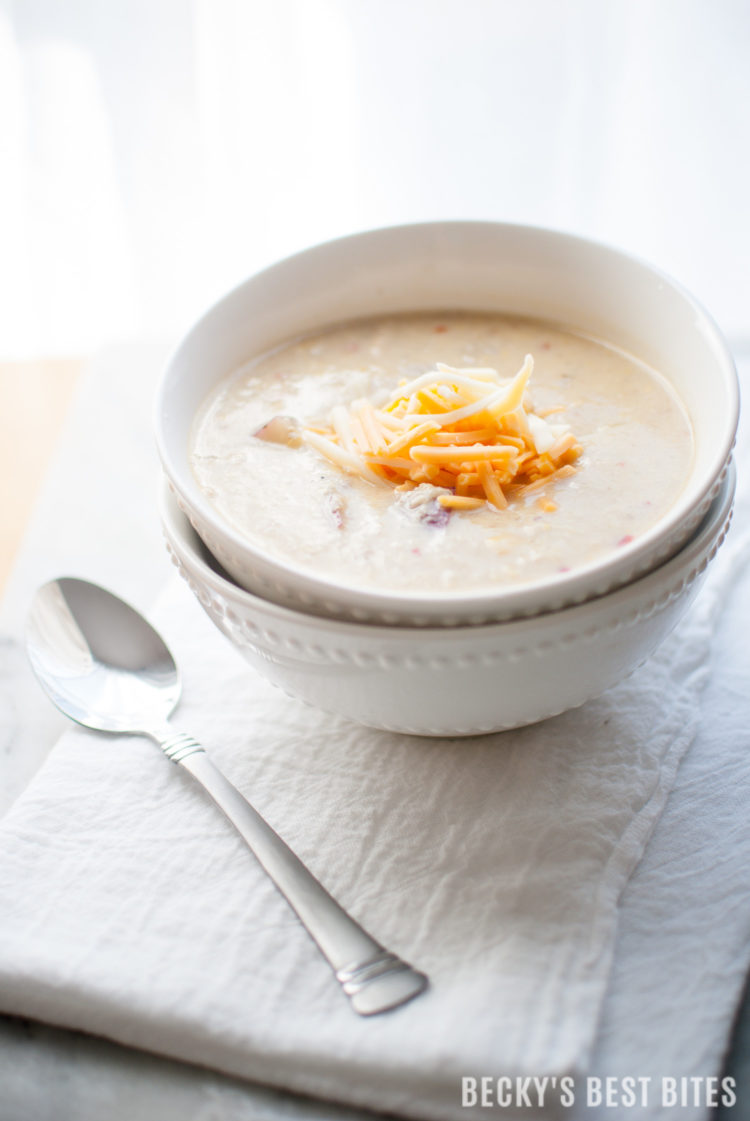 Did everyone have a great Thanksgiving? We definitely did 🙂 Fun times, lots of food and laughter with the family! It was Baby Girl's first Thanksgiving and it was a joy to see her pure enjoyment over all the different foods that she experienced. The surprising favorite was creamed spinach!! It was something a little different for us on our holiday menu. I typically do sautéed greens with garlic (either kale or collards) but I wanted to mix it up this year. The creamed spinach was such a hit, that I am going to post it on the blog soon. Now back to this Quick Chicken-Corn-Potato Chowder 🙂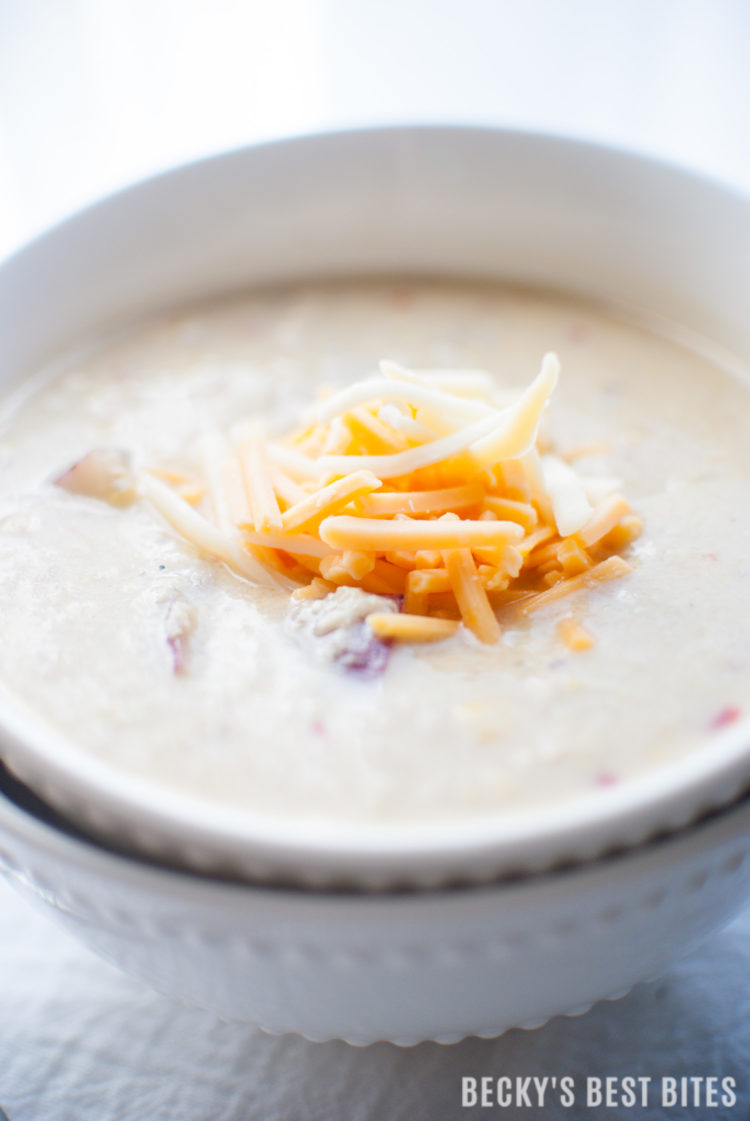 So when the Hubs cooks, he sometimes pulls out random things out of the freezer and puts them together. One day he pulled some chicken and creamed corn out of the freezer. We typically cream corn in the summer and put it up to have fresh creamed corn all year long! Here is a post that I wrote a while back that explains how we do it –> How to Cream Corn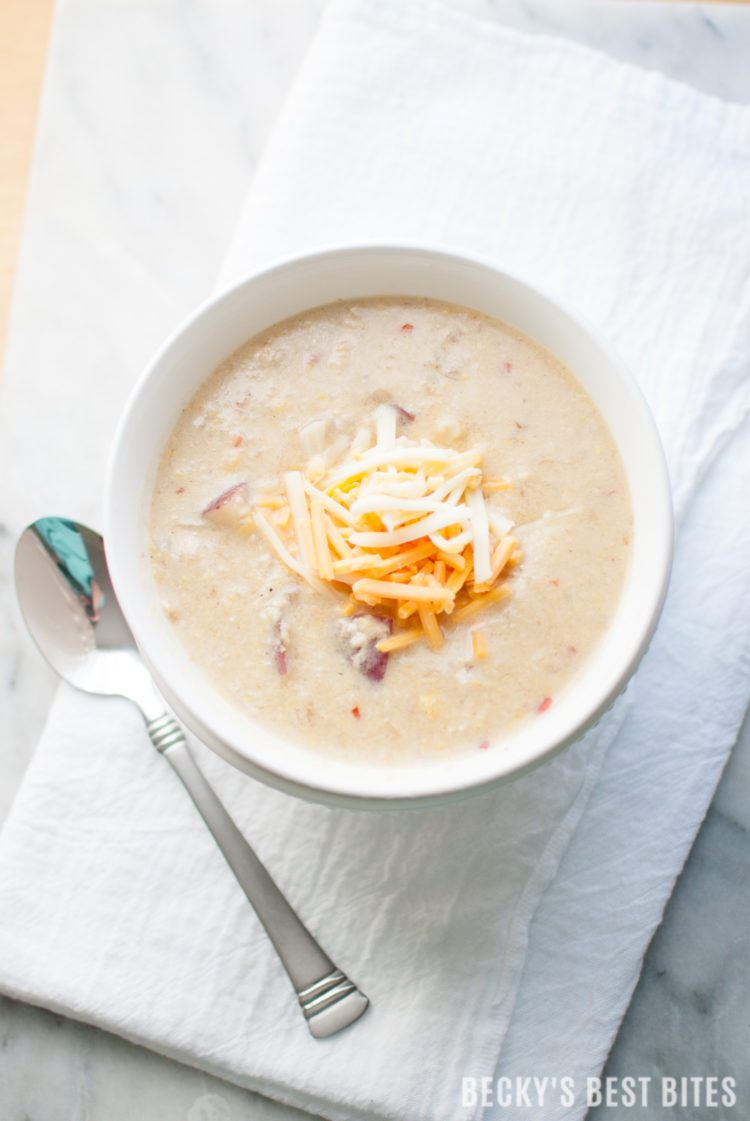 He ended up going a different direction with dinner that night but the chicken and creamed corn were already thawed and needed to be used. I went to trusty google and came across this recipe for Creamy Chicken and Corn Chowder and this one for Quick Chicken Corn Chowder. I took some inspiration from both to come up with my Quick Chicken-Corn-Potato Chowder 🙂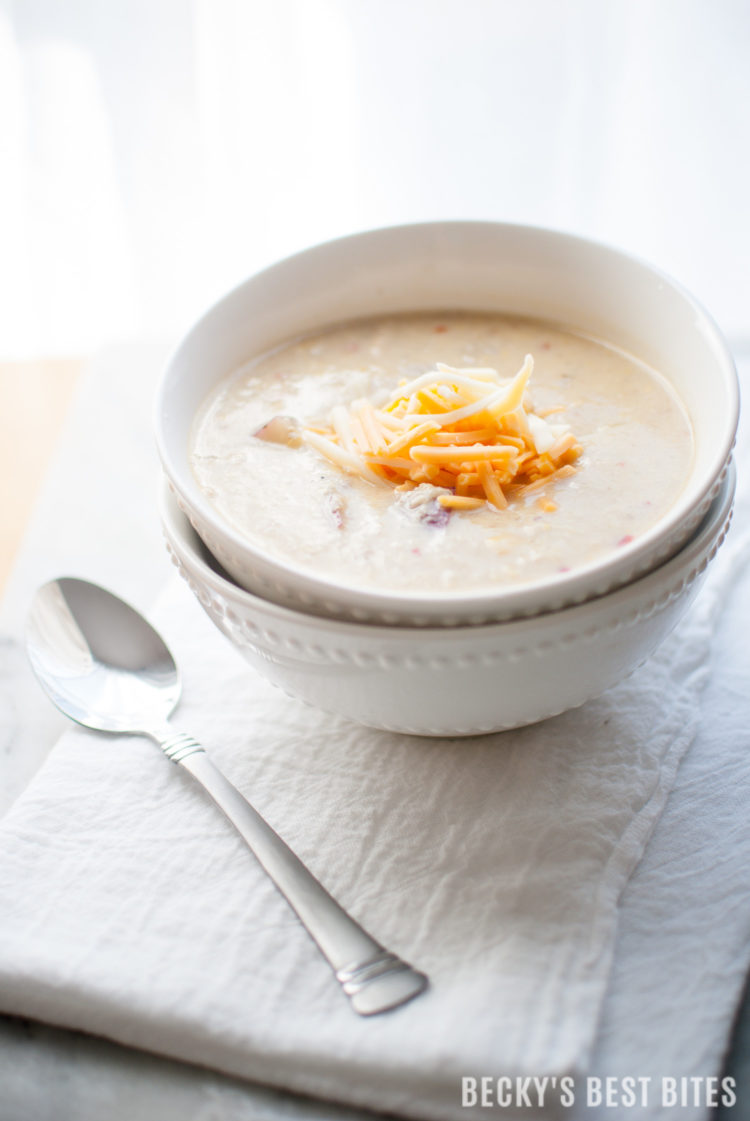 Quick Chicken-Corn-Potato Chowder
Quick Chicken-Corn-Potato Chowder Author: Becky's Best Bites
Author:
Becky's Best Bites
Ingredients
2 tbsp. extra virgin olive oil
1 lb. boneless, skinless chicken breast, cut into bite-size pieces
1 large, sweet, yellow onion; chopped
1 medium red bell pepper, ribs and seeds removed and chopped
3 cloves garlic, minced or pressed
2 tbsp. flour
2 cups reduced-sodium chicken stock
1 cup milk of choice
1½ lbs. red potatoes, chopped into bite-size pieces
1 tbsp. cumin
1 tsp. crushed red pepper (more, less or omit depending on your spice preference)
Sea salt and fresh ground pepper, to taste.
20 oz. frozen cream corn (thawed) or 1 (15 oz.) can.
2 cups frozen or fresh kernel corn
Shredded cheese for garnish (I used cheddar jack.)
Instructions
Heat a large dutch oven or sauce pan over medium-high heat.
Once hot, add olive oil and chicken pieces.
Sauté chicken for about 5 minutes or until browned on all sides. Remove chicken from the skillet and keep warm. (Chicken doesn't have to be cooked through at this point. We will be adding it back to cook more)
Add onion, bell pepper and garlic to the skillet and sauté for 3-4 minutes or until the veggies have begun to soften.
Sprinkle the flour over the veggies, stir and cook for 1 minute.
Slowly add chicken stock and then milk, whisking constantly. Mixture should begin to thicken.
Add potatoes, cumin, crushed red pepper (if using), salt and pepper. Bring mixture to a boil and then reduce heat and simmer for 10 minutes or until potatoes are just tender, uncovered. Stir occasionally.
Add chicken back to the pot as well as both the creamed and kernel corn. Stir to combine, heat through and simmer for a few more minutes so the chowder reaches your desired consistency.
To serve: ladle into bowls and top with shredded cheese, if desired.
If you enjoyed this 
Quick Chicken-Corn-Potato Chowder, you might like some of my other soup/chowder/chili recipes: