Chicken Quinoa Toddler and Kid-Friendly Bites are protein and vegetable packed portable, fun and healthy nibbles that toddlers and kids will love and parents will enjoy too! Quick and easy to make and they freeze beautifully. Pop in the microwave for a minute and they are ready to eat. They are perfect for snacks and meals on the go, so keep plenty on-hand.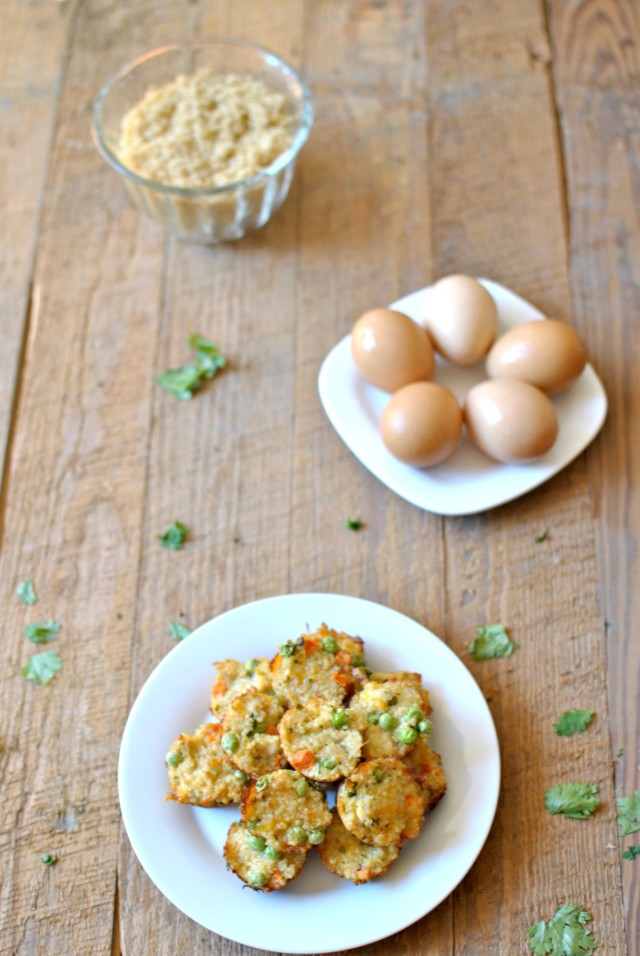 I am learning very quickly that soon-to-be one year olds L-O-V-E to feed themselves! My nephew (and I understand most kids his age) really enjoy to grab a handful of their food and shove as much of it as possible in their mouths…and then proceed to cover themselves in the food as well! It is soooo adorable and I just can't help but laughing at it 🙂 So I have been on a mission to find "bite" type foods that I can make for him and freeze to take over for my sister.  My first 'bite-sized' adventure (pun totally intended) was this post: Sneaky Veggie Breakfast Scramble Bites.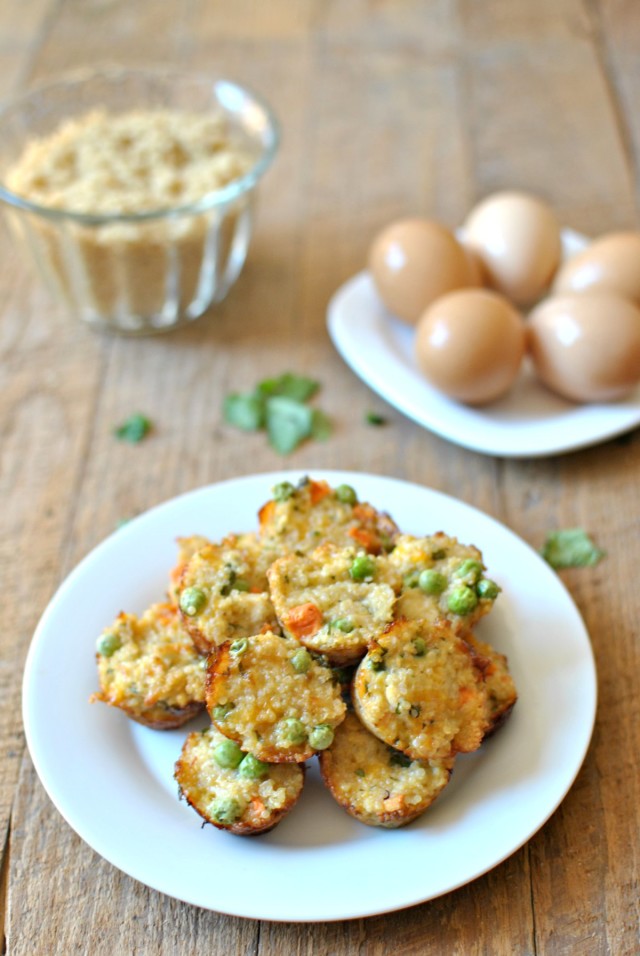 For my second 'bite-sized' adventure (are you sick of that pun yet?), I am tackling Chicken Quinoa Toddler and Kid-Friendly Bites. Again, I found this recipe on Cooking Quinoa and their recipe BBQ Chicken Quinoa Bites. I modified them a bit based on Z's tastes and what I had on hand.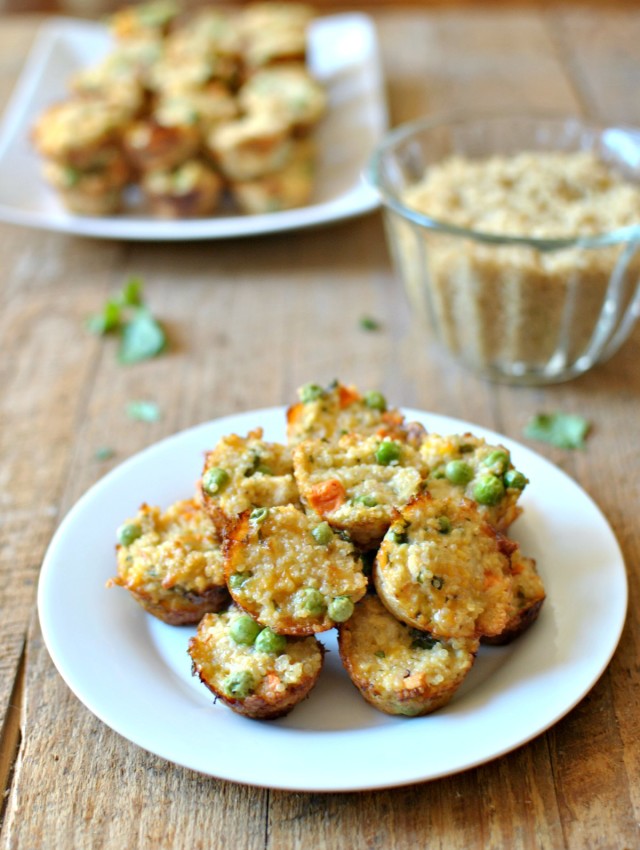 Chicken Quinoa Toddler and Kid-Friendly Bites are very versatile. Use whatever veggies you have on hand…I have to say that they are quite tasty! Big kids will love these little snacks too 🙂
Here is the recipe for Chicken Quinoa Toddler and Kid-Friendly Bites:
Chicken Quinoa Toddler and Kid-Friendly Bites
Author:
Becky's Best Bites
Ingredients
3 eggs
2 cup cooked quinoa
1 cup shredded rotisserie chicken (or other cooked chicken)
1 cup frozen peas and carrots
½ cup shredded mozzarella cheese
½ cup shredded mild cheddar cheese
1 tbsp. fresh cilantro, chopped
½ tsp. fresh cracked ground pepper
Instructions
Pre-heat over to 350 degrees.
Grease 2 (24 cup) mini-muffin pans with non-stick cooking spray.
Cook quinoa according to package instructions and let cool.
In a large mixing bowl, whisk together eggs.
Stir in quinoa, chicken, cheese, veggies, herbs and pepper and mix until evenly combined.
Using a spoon, pour mixture into the muffin tins, careful not to overfill (they will expand during cooking a bit).
Bake for 20 minutes or until eggs are set.
Remove from oven and let cool a few minutes before removing the bites to a cooling rack.
If desired, place cooled muffins on a cooking sheet and place in freezer to freeze without them sticking together.
Once frozen, place bites in a freezer bag or vacuum seal bag and place in the freezer.
To heat: defrost in the microwave for about 1 minute and then cook on high for 30 seconds or until heated through.
If you are lovin' these Chicken Quinoa Toddler and Kid-Friendly Bites, then you might want to check out some of my other kid-friendly bites: