Happy Hump Day! I hope your week is going well. Did you enjoy your Memorial Day weekend? I hope you were able to spend time with friends and family. Also, I want to thank all the soldiers that have proudly served our country to keep us safe! THANK YOU FOR YOUR SERVICE 🙂
So today I am sharing with you a super easy and quick dinner that would work great for any busy weeknight, the Mexi Mac Skillet. You guessed it…it is a mexican take on a mac and cheese. The ingredients are ones you probably have on-hand already or are an easy add to your next shopping trip. Nothing too fancy here, but a tasty meal that I was able to make healthier with a few simple swaps.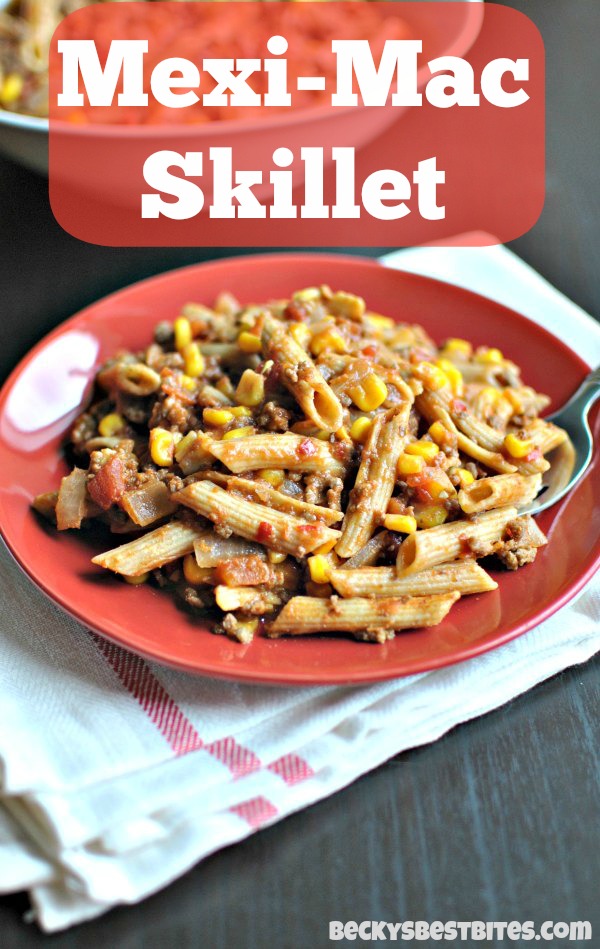 I stumbled across the original recipe on Pinterest when I was trying to figure out what to do for dinner that night with the ground beef that I had pull out of the freezer that morning.  Pinterest is my go-to when looking for recipe inspiration. You can check me out on Pinterest here, if you would like. The Mexi-Mac Skillet recipe by Taste of Home looked like a great recipe that would be perfect for a weekend night. On the table in 30 minutes or less and used ingredients that I happened to have on hand, so I thought I would give it a try making a few modifications to make it healthier and thus Becky's Best Bites approved.
Please visit my guest post on Beauty for Imperfection for the ingredients list and instructions on preparing this dish. Let me know what you think of my version of  Mexi Mac Skillet.