Sweet Potato Cauliflower Veggie Tots are a baby, toddler, kid-friendly recipe. A healthy and easy way to get vegetables, nutrients & vitamins into picky kiddos.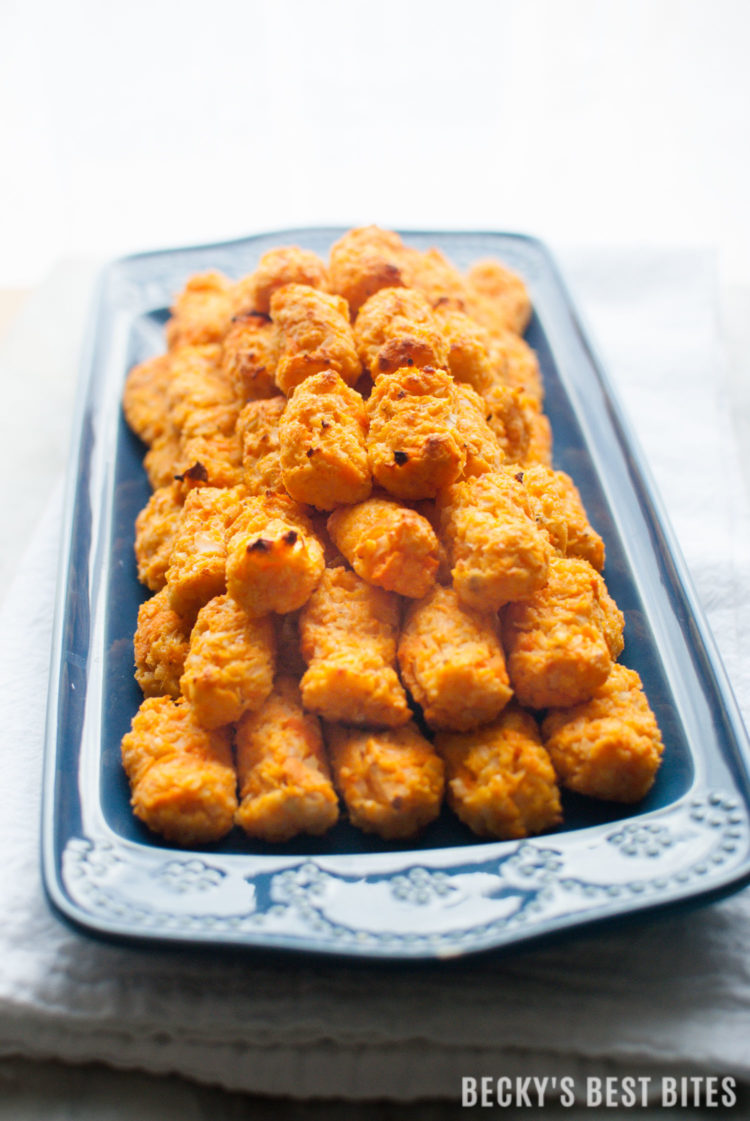 I just can't believe it, but Baby Girl is 10 months old today!!! We are going to start weaning her off of formula in a month. While I am super excited to not have to buy expensive formula anymore, it also means that that she won't have the complete nutrition that formula gives her anymore. I don't quite believe the saying "Food before one is just for fun." But after she is weaned off formula, I will have to be even more diligent about what I feed her. And that is why I decided to make these Sweet Potato Cauliflower Veggie Tots.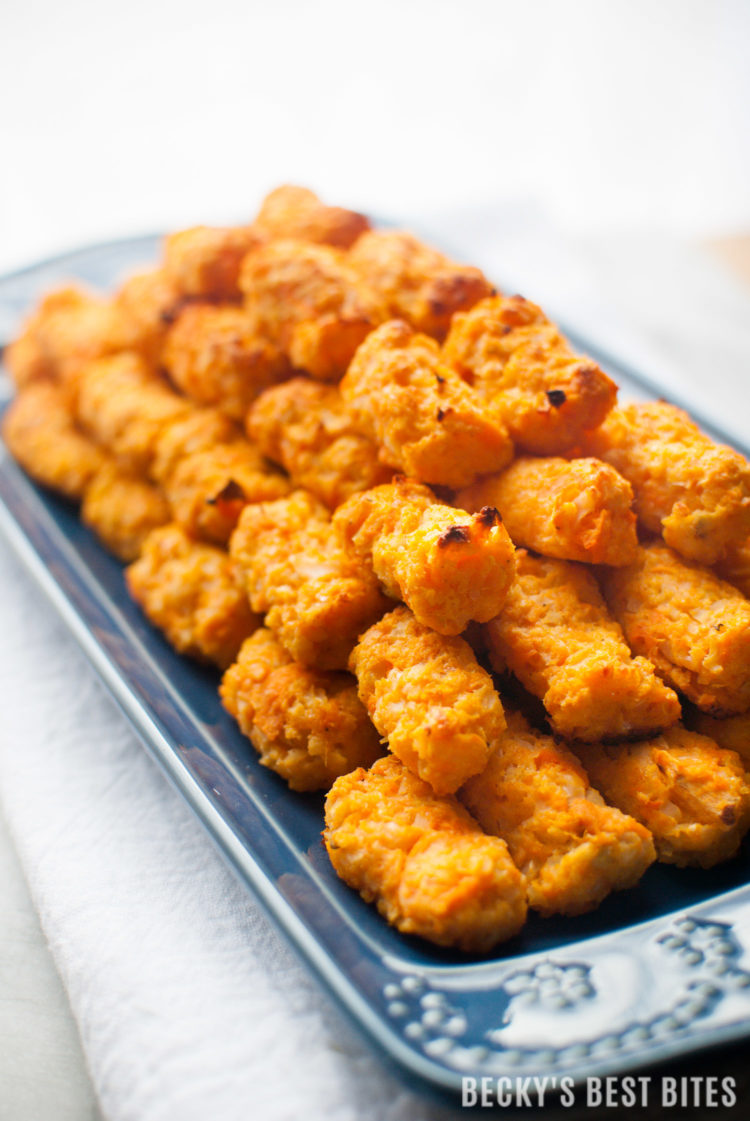 I found these veggie tots in the freezer section of my grocery store. I bought them and Baby Girl loved them! I loved that they were filled with veggies. I thought that I could try to make them for her myself. They would be cheaper and healthier!! Win win!! After a quick google search, I decided to use a combination of this recipe and this recipe to come up with my version of Sweet Potato Cauliflower Veggie Tots.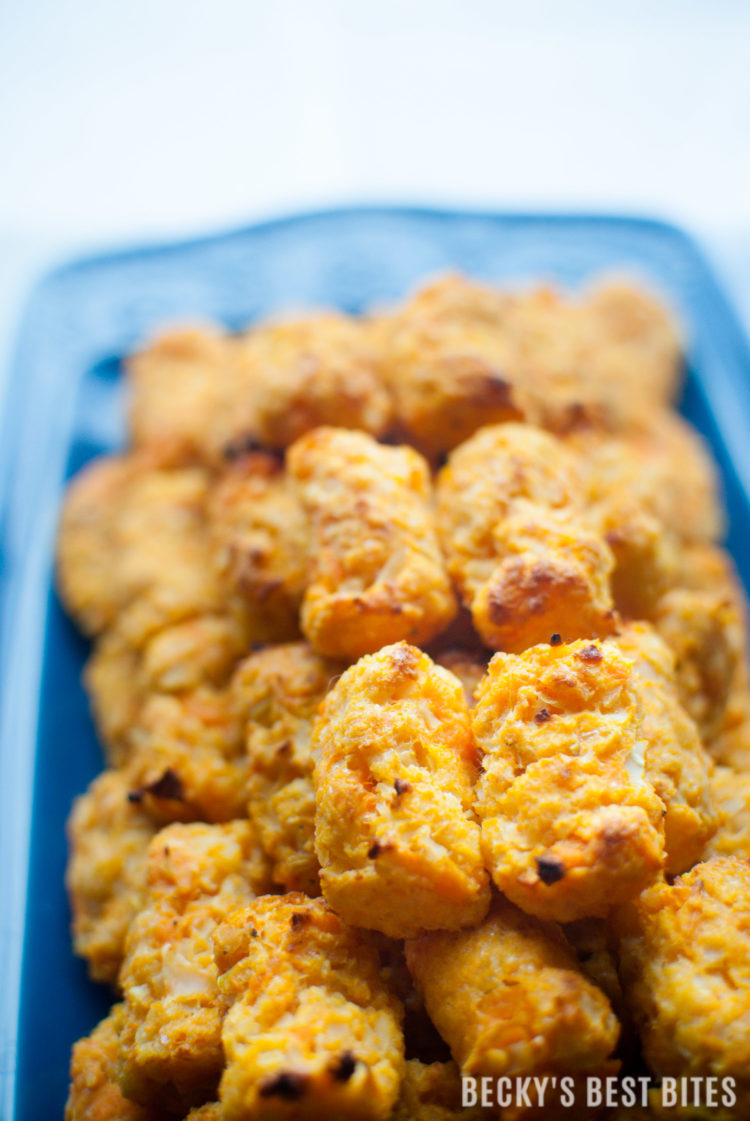 The verdict: SHE LOVED THEM!! She gobbled several up when they were fresh out of the oven (well..once they cooled a bit, of course) 🙂 I loved them too!! I found myself munching on them guilt free 😉 I brought some over to my sister for her boys and they loved them too!! YAY!! Three babies that have been refusing any veggies gobbling up tots filled with veggies!!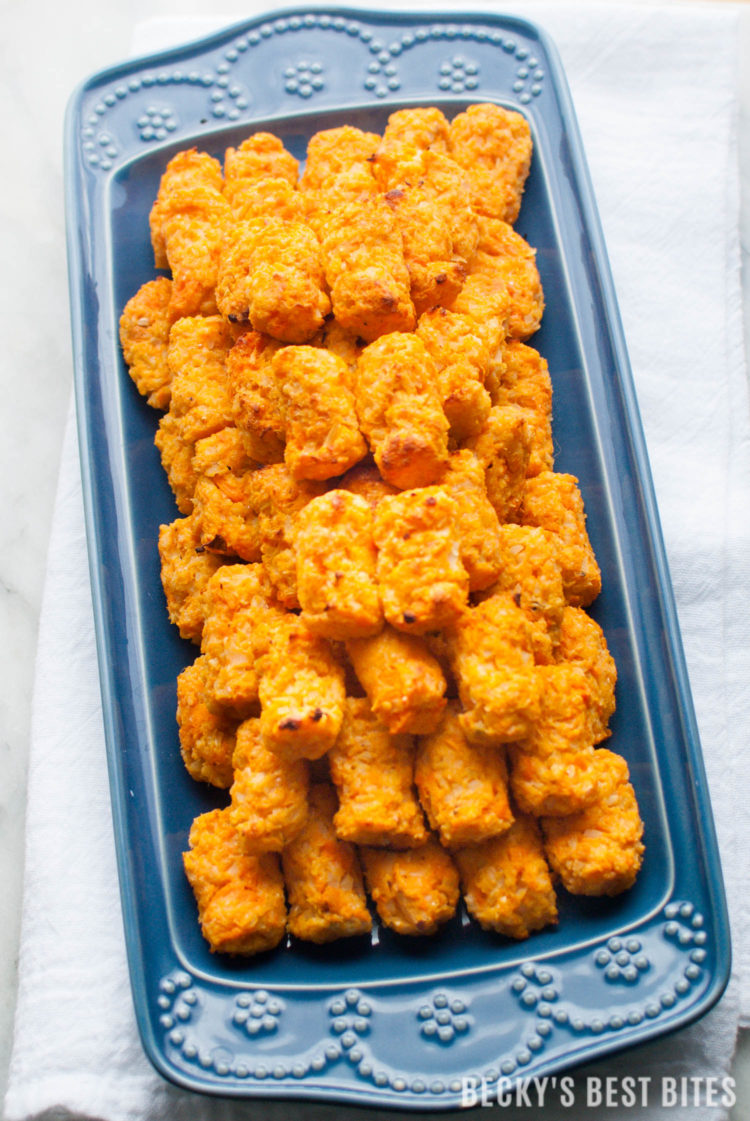 The only problem we ran into was that after they had been refrigerated and you warm them up in the microwave, they didn't like them as much! They had lost the crispy edges and weren't quite as yummy! My sister said that if she heated them up in her toaster oven, her boys seemed to like them better. The problem is that I don't have a toaster oven and I am out of countertop space in my little kitchen. I don't really want to heat up my big oven just to reheat a few tots… I think I have found the solution 🙂 Do you know that someone has created Reusable Toaster Bags?! (affiliate link) –> http://amzn.to/2DveMI1
I just ordered them and thanks to Amazon Prime, they will be here in two days!! I can't wait to try them!! You can use them to roast veggies, make grilled cheese and other toaster sandwiches and much more! Super excited 🙂
Here is your recipe for 
Sweet Potato Cauliflower Veggie Tots:
Sweet Potato Cauliflower Veggie Tots
Author:
Becky's Best Bites
Ingredients
2 sweet potatoes
12 oz. riced cauliflower (about 1 large head of cauliflower)
2 large eggs
1 cup panko bread crumbs
½ cup grated parmesan cheese
1 tsp. cumin
½ tsp. red pepper (more, less or none depending on prefernce)
Sea salt and fresh ground pepper, to taste
Instructions
Preheat oven to 400 degrees F.
Line a baking sheet with either a silicon baking sheet or parchment paper and set aside.
Cook sweet potato until tender. Two options: 1. Pierce a few holes in each sweet potato with a knife and microwave for 6-7 minutes (3 minutes per sweet potato) or until tender. 2. Peel and cube and steam on the stove top for 10-12 minutes or until tender. Drain and let cool.
If using frozen riced cauliflower, cook according to package instructions. Let cool slightly.
If using a fresh head of cauliflower, chop into florets and steam for 10-12 minutes (throw it in with the sweet potato) or until tender. Once tender, place in a food process and pulse until chopped into a fine "rice."
In a large mixing bowl, combine cooked sweet potato, riced cauliflower, eggs, bread crumbs, parmesan cheese, cumin, red pepper (if using), salt and pepper.
Scoop about 1 teaspoon of the mixture and roll into a rectangle shape. Gently press the top and bottom with your thumb and pointer finger to make the "tot" shape and place on prepared baking sheet.
Continue forming tots with the rest of the mixture and placing on baking sheet.
Place in the oven and bake for 18-20 minutes or until golden brown.
Remove from oven, let cool for a few minutes and enjoy!
If you like this recipe for Sweet Potato Cauliflower Veggie Tots, you might want to try these other cauliflower recipes: