Weeknight Mushroom and Beef Stroganoff Skillet is a quick, easy and healthy dinner recipe that is ready in 30 minutes or less.  This one pot meal is sure to become a family favorite and the easy clean-up is another plus!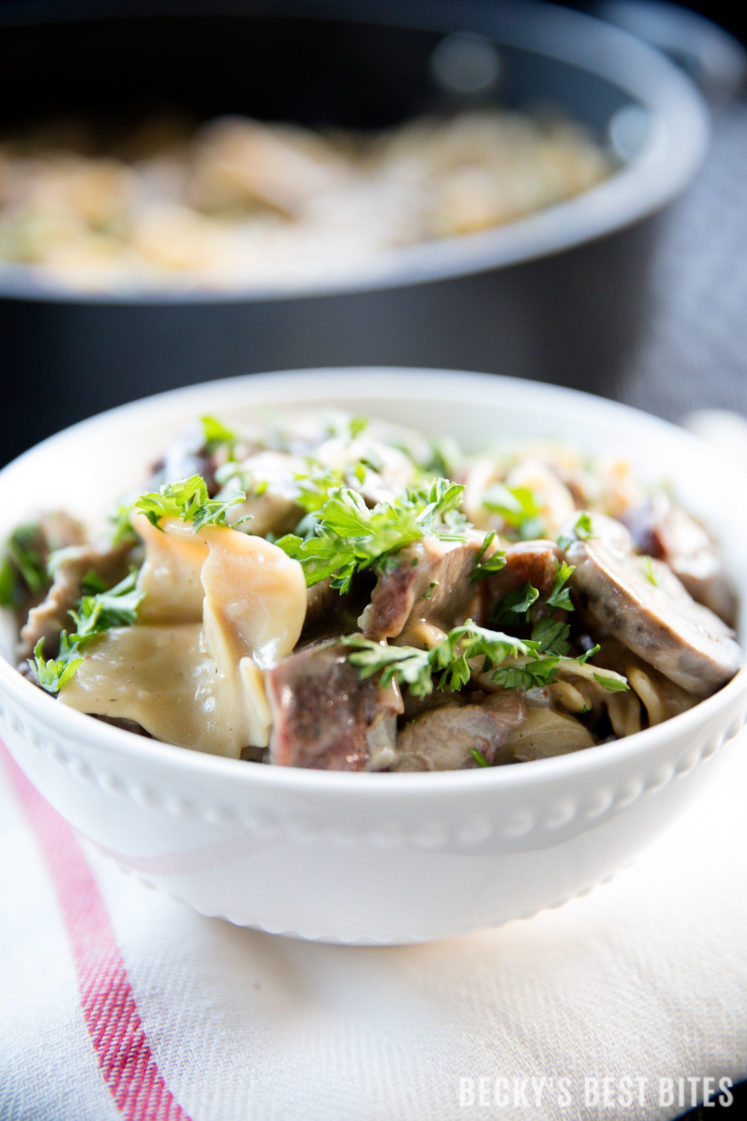 Y'all I am IN LOVE!! Yes, I am in love with this Weeknight Mushroom and Beef Stroganoff Skillet (and so was the fam BTW) but I am also in love with this Canon 5D Mark IV camera that I rented! I have wanted to purchase a full frame camera for quite a while, but I just can't bring myself to spend $3000 on a camera and then have to spend another $1700 for the lense that I want.
My sister has rented camera and lenses when she get hired to photograph special events (like weddings). She does some photography on the side and is in the same boat as me with actually purchasing one! She has twins and I have Baby Girl and Lil Man so we just can't let ourselves spend that kind of money on ourselves. She was hired to shoot a wedding this weekend and they wanted a second shooter so she asked me to do it! I said, "YES," of course and then both decided to rent a camera and lense since we are getting paid for the wedding. We ordered them from LensRentals.com (nope, not an affiliate link…just sharing because I have had a good experience with them so far). I went ahead and rented the camera and lense for a few extra days so I could play with it and use it for some blog posts!
For this Beef Stroganoff Skillet, I used the leftovers of a lean beef rib loin that my Dad smoked on his smoker over the weekend. This sucker was HUGE! We had it for dinner Sunday evening, then turned part of it into fajitas on Monday and then used the remaining piece for this beef stroganoff skillet. 
I kept the classic flavors in this Beef Stroganoff Skillet, but I wanted to kept it a simple, one pot meal. The less dishes that I have to wash and time spent in the kitchen, the better in my book 😉 I used this Beef & Mushroom Stroganoff from Budget Bytes as my inspiration for this dish. 
Start off with sautéing your onions and garlic in some butter and EVOO.
Add the mushrooms to the party once the onions have softened.
Add flour to start the roux.
Add the beef broth, worcestershire sauce and season to taste. Cook for a couple of minutes or until the sauce starts to thicken.
The add the noodles and the beef pieces and stir to combine. Cover and bring to a boil.
Once boiling, remove lid, stir and reduce heat to a simmer. Place the lid back on the skillet and simmer for 7-10 minutes, stirring occasionally.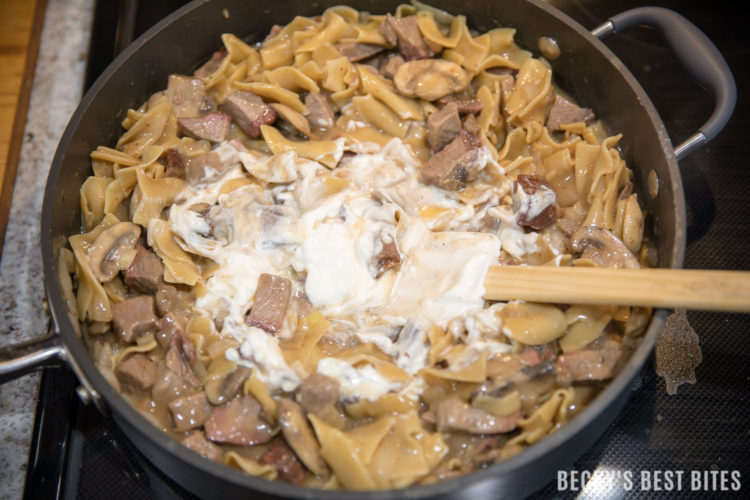 Once the noodles have softened to al dente, stir in sour cream and sprinkle with parsley. Now you have Weeknight Mushroom and Beef Stroganoff Skillet!! It is ready to take to the table to feed your hungry family! Now I don't know what is better…that it is done in 30 minutes or there is only one pot to clean?? LOL 🙂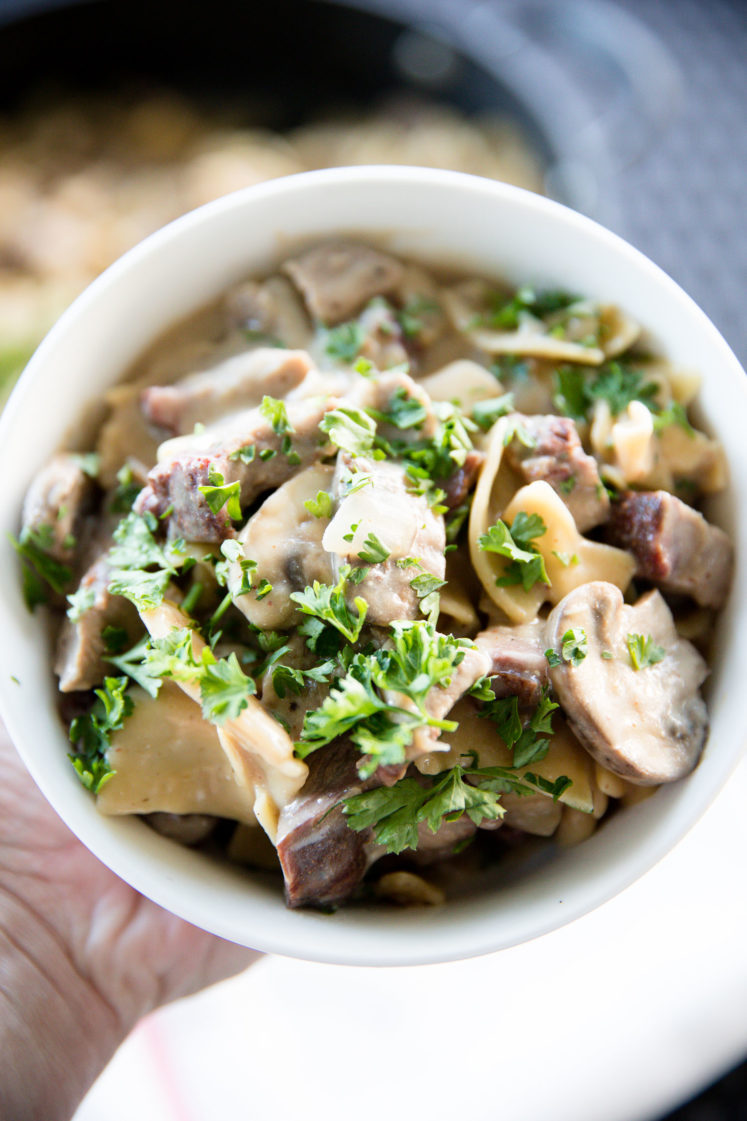 Nah…the best part about this Weeknight Mushroom and Beef Stroganoff Skillet is how yummy it is!! The whole family will gladly finish their plates 🙂 And that is a win!!
Here is your recipe for 
Weeknight Mushroom and Beef Stroganoff Skillet:
Weeknight Mushroom and Beef Stroganoff Skillet
Author:
Becky's Best Bites
Ingredients
2 tbsp. butter
2 tbsp. extra virgin olive oil
1 medium sweet yellow onion, chopped
3 cloves garlic, minced or pressed
1 package (8 oz.) fresh mushrooms, sliced
4 tbsp. flour
2 cups reduced-sodium beef broth
1 tsp. Worcestershire sauce
Sea salt and fresh ground pepper, to taste
1½ lbs. lean beef rib loin, cooked and cubed
1 package (12 oz.) egg noodles
½ light sour cream
2 tbsp. parsley, chopped for garnish (optional)
Instructions
Melt butter in a large, deep skillet or pot over medium-high heat.
Add olive oil, onion and garlic and sauté for 2-3 minutes or until the onions begin to soften and turn translucent.
Add the mushrooms and continue to sauté for about 5 minutes or until the mushrooms release their juices and browned.
Sprinkle in the flour, cook for about a minute while stirring.
Add the beef broth, worcestershire sauce, salt and pepper and stir to combine.
Cook for about 2 minutes or until the sauce just starts to thicken a bit.
Add beef pieces and egg noodles and stir to combine. Cover and bring to a boil.
Once boiling, remove lid, stir and reduce heat to a simmer.
Recover and simmer for 7-10 minutes or until egg noodles have cooked to al dente, stirring occasionally.
Once noodles are tender, stir in sour cream and sprinkle with parsley (if desired).
Serve hot