Happy New Year everyone!! This year, I am all in! And to get things started right, I am cooking a typical New Year's meal to ensure that we have prosperity and progress in 2015. For our New Year's suppers,  we usually eat my New Year's Pork, Black-Eyed Peas & Greens.
The pork is for progress and black eyed peas and greens will help to usher in LOTS OF MONEY in 2015!
I'm not sure why pork is for progress, but the black-eyed peas look like little coins (money) and the kale is green like bills (not the kind you pay but the kind you spend…he…he). Do you believe in these kind of superstitions? Here's to hoping that there is some truth in these traditions 😉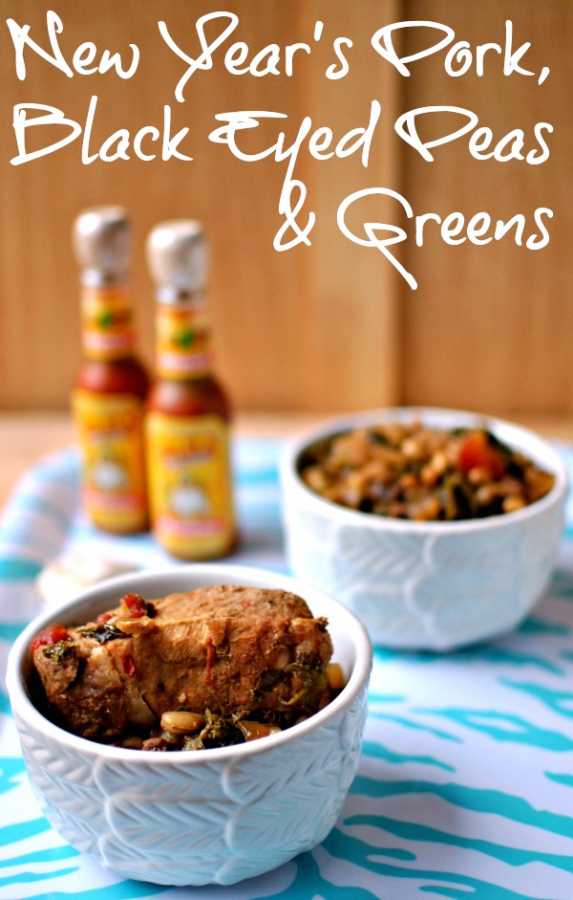 Here is your recipe for New Year's Pork, Black-Eyed Peas and Greens:
New Year's Pork, Black-Eyed Peas and Greens
Ingredients
1 lb lean, white meat pork chops
2 (12 oz.) packages of pre-soaked black-eyed peas
1 (15 oz.) can diced tomatoes
1 medium onion diced
8-12 cups of cleaned kale greens, sliced or chopped
4 tbsp. reduced-sodium soy sauce or Braggs liquid aminos
2 tbsp.Worcestershire sauce
1 tbsp. liquid smoke
1 tbsp. hot sauce
½ cup reduced-sodium or sodium-free chicken stock
1 tbsp. light brown sugar
1 tbsp. cumin powder
1 tbsp. minced garlic
1 tbsp. fresh thyme, chopped
1 tbsp. crushed red pepper flake
1 tbsp. chipotle chili powder
1 tsp. sea salt
1 tsp. black pepper
1 cinnamon stick
2 bay leaves
oil as needed
Instructions
Spray non-stick cooking spray or place a slow cooker liner in the slow cooker. Add pork chops, peas, tomatoes and onions to the bottom of the slow cooker and top with kale.
In a small bowl, combine soy sauce (or liquid aminos), worcestershire, liquid smoke, hot sauce, chicken stock, brown sugar and all spices. Stir to combine and dissolve the brown sugar.
Pour mixture over greens. Cover the slow cooker and cook on low for 8-9 hours or high for 4-5 hours or until the peas are tender but not mushy.
Adjust spices and enjoy a new year filled with progress and prosperity 🙂
Recipe adapted from
Curry and Comfort
.
How did you spend your New Year's? What are some of your goal/aspirations for the new year?