White Wine Dijon Chicken & Broccoli is an easy, healthy and tasty recipe that comes together in under 30 minutes! Serve it over any grain you like: brown rice, quinoa or pasta for a great dinner! You could also forgo the grain and have just the chicken and broccoli for a low-carb meal. Either way it's my kind of recipe 🙂
I swear that I can waste more time on Pinterest!! That is probably why the majority of my recipes come from there (including this one, but more on that in a minute)! BTW…do you follow me on Pinterest? Ok, I know…shameless plug…but if you want to check me out on Pinterest, you can find me here. I pin A LOT more than just my own stuff! I find amazing recipes from amazing bloggers who take amazing pictures (could I use "amazing" a few more times??)! Most of the time I get envious of other blogger's stuff and just wish that my pictures and recipes could be that good. Let's pause for my pity party…ok, enough and back to White Wine Dijon Chicken & Broccoli! Sorry about that 🙂
I said that I would get back to where the inspiration for this recipe came from and I am a woman of my word! The inspiration for White Wine Dijon Chicken & Broccoli came from a Carlsbad Craving's recipe that I found on Pinterest (where else? LOL). Her recipe is Apple Juice and Dijon Braised Cheddar Chicken Broccoli and Rice Skillet. Jen used apple juice in her recipe, which I thought was very creative. The problem though is I am not much of a fan of apple juice. However, there is a juice that I am very much a fan of…WINE! So I thought that might be a good swap and it was! Wine makes everything better!!
I also cooked my rice separately in my rice cooker and left off the cheese. I am a fan of cheese, but I didn't think that my version of the recipe really needed it. That also helped to keep calories and fat down in my version, which is what we try to do here at Becky's Best Bites, right?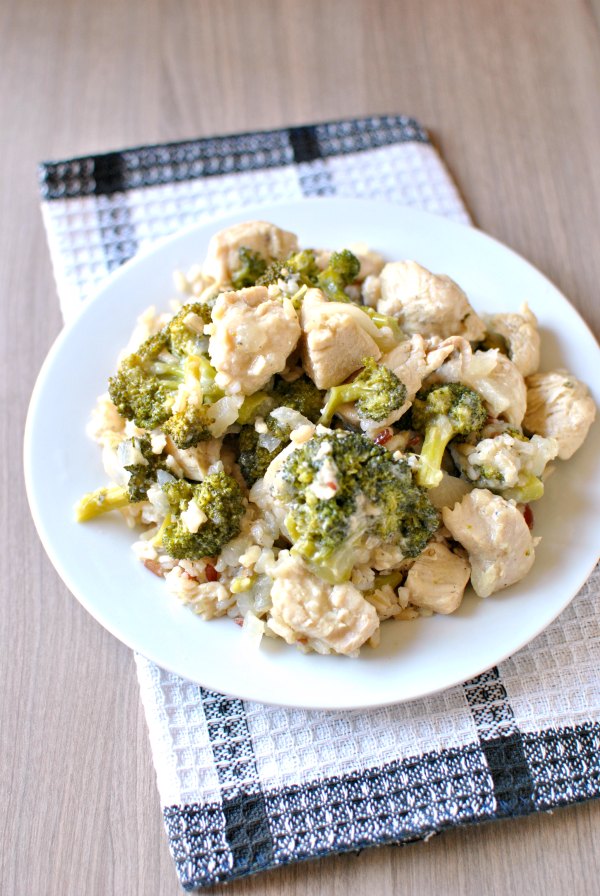 Here is the recipe and nutritional information for White Wine Dijon Chicken and Broccoli:
White Wine Dijon Chicken and Broccoli
Author:
Becky's Best Bites
Ingredients
2 tbsp. extra virgin olive oil
1 large sweet onion, chopped
4 cloves garlic, minced or pressed
1 lb. boneless, skinless chicken breasts, chopped into bite site pieces
½ cup dry, white wine
3 tbsp. dijon mustard
½ cup reduced-sodium chicken broth
1 tbsp. fresh spicy oregano, chopped
1 tsp. crushed red pepper flakes
Sea salt & fresh cracked pepper to taste
3 cups broccoli florets
Instructions
Heat olive oil in a large skillet over medium-high heat.
When oil is hot, add onions and garlic and cook for 3-4 minutes or until the onions are starting to turn translucent.
Add the chopped chicken to the pan and cook for 4 minutes on each side. Note: the chicken will not be fully cooked at this point, but will be starting to brown on both sides.
Add the wine to the pan and deglaze. Cook for 2-3 minutes to reduce the wine by half and the alcohol is cooked out (making it kid safe).
Add the dijon mustard, chicken broth and spices Stir to combine and adjust the spices if needed.
Add the broccoli to the pan, cover and cook for 5-7 minutes or until the broccoli is bright green and crisp-tender and the chicken is cooked through.
Serve over brown rice, quinoa, pasta or alone for a low-carb meal.