Slow Cooker Greek Chicken with Potatoes and Green Beans is an easy and healthy recipe perfect for a weeknight family meal.  You only need 10 minutes of morning prep and dinner will be waiting when you get home that evening 🙂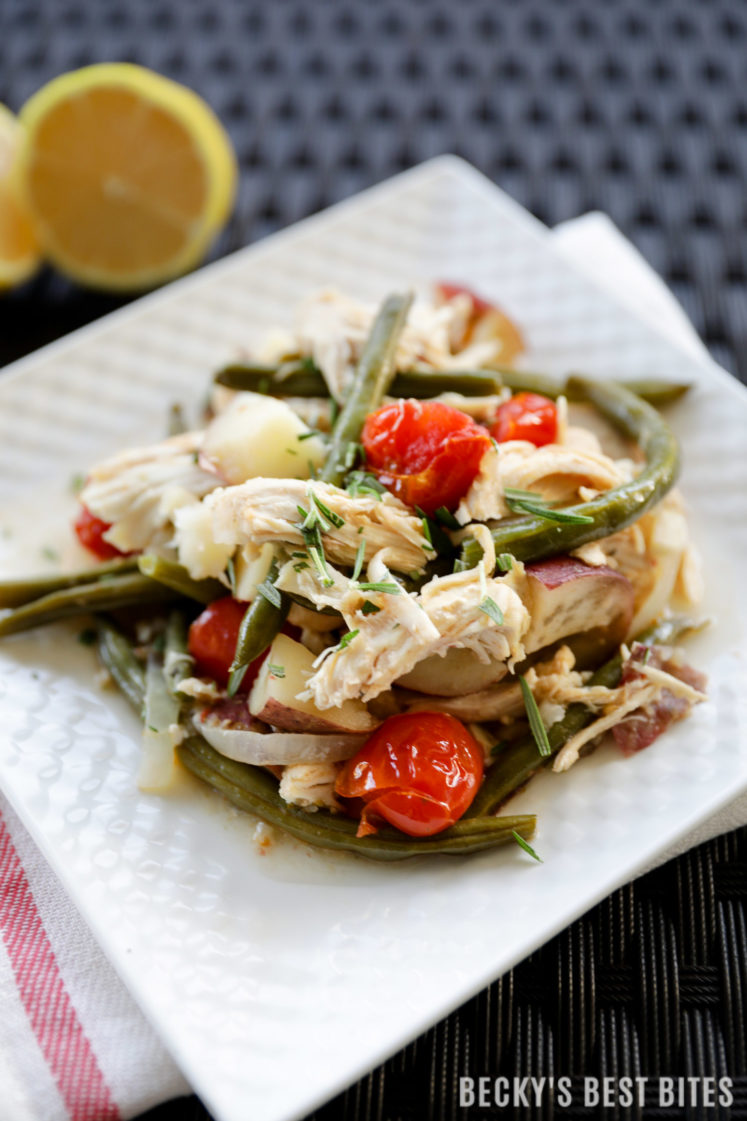 I don't know about you, but I can never have too many slow cooker recipes?!? Even though I am now at home everyday, I still find it super convenient to take 10 minutes during Baby Girl's morning nap to prep dinner and be done!!
It is also nice to have dinner ready whenever everyone needs to eat. Lil Man and Hubs might have soccer and be coming in late and I might need to get Baby Girl to sleep before I can eat. Currently she is going through a significant developmental leap which is causing the dreaded 8 month sleep regression. She and I both are sleep deprived and she is super clingy and needy. Let me just talk a moment about this sleep regression… YIKES!! My good sleeper who has been sleeping through the night for months now wakes 2-3 times a night! We are up for hours at a time with whimpering and crying that seems to be for no reason!! Then we end up sleeping in the recliner… This too shall pass… This too shall pass…
Ok…thank you for letting me vent for just a minute. Let's get back to the real reason that you are here, this fabulous Slow Cooker Greek Chicken with Potatoes and Green Beans 😉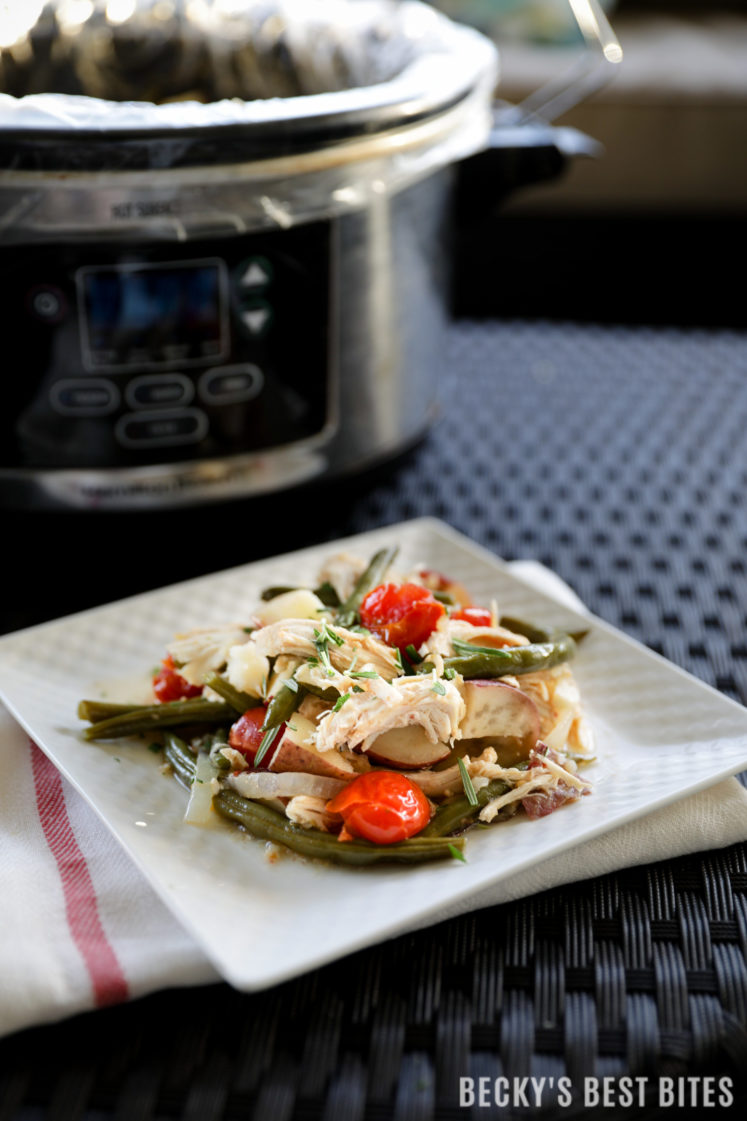 All the lovely greek flavors in an easy and healthy winner winner chicken dinner 🙂 My inspiration for my Slow Cooker Greek Chicken with Potatoes and Green Beans was this recipe from Bowl of Delicious. Let's get started, shall we?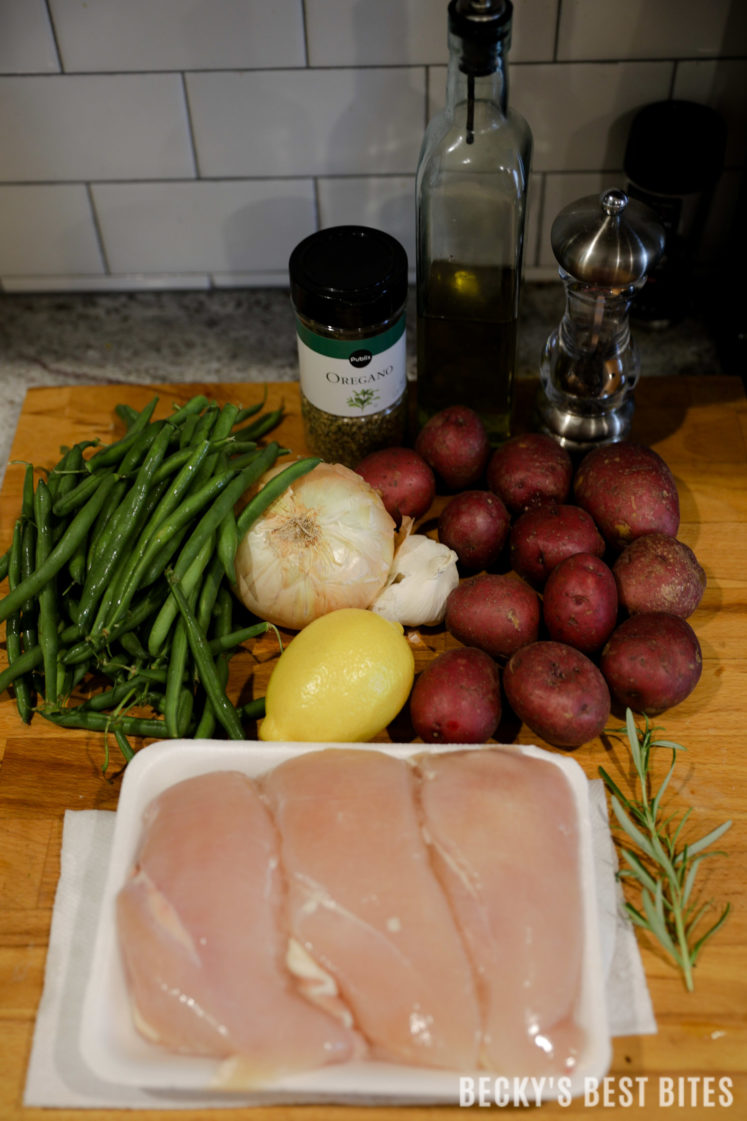 You will notice that the stock, tomatoes and basil didn't make it into this pic 😉 I decided on them on the fly and threw them in the slow cooker. I am really glad that I did because I think that they were really needed 😉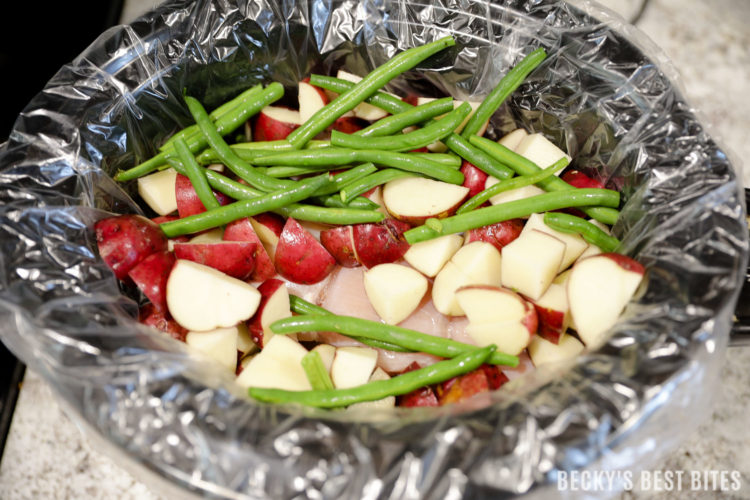 Layer onions and garlic, then chicken, then potatoes and top with green beans. This way your green beans won't get too mushy from cooking all day 🙂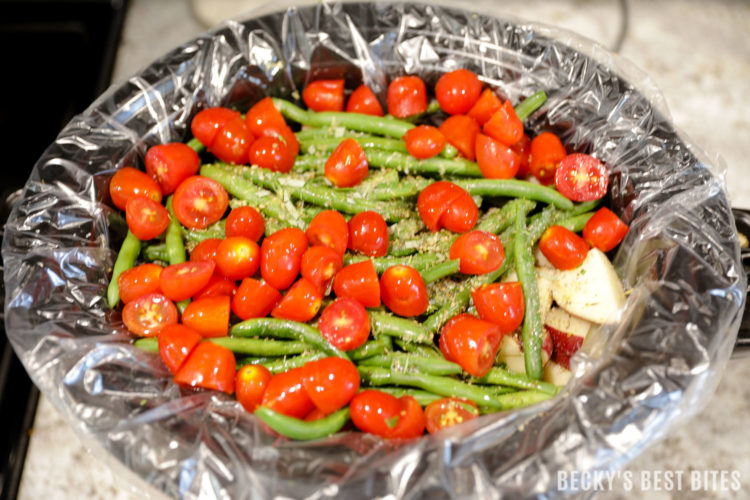 This is when I decided on the tomatoes 😉 I remembered that we had a bunch of tomatoes in the frig that one of Dad's customers had brought in that needed to be used… I like the pop of color too 😉 Then add your seasonings and finally pour the chicken stock over everything. That is all the prep that you have to do for this yummy Slow Cooker Greek Chicken with Potatoes and Green Beans 🙂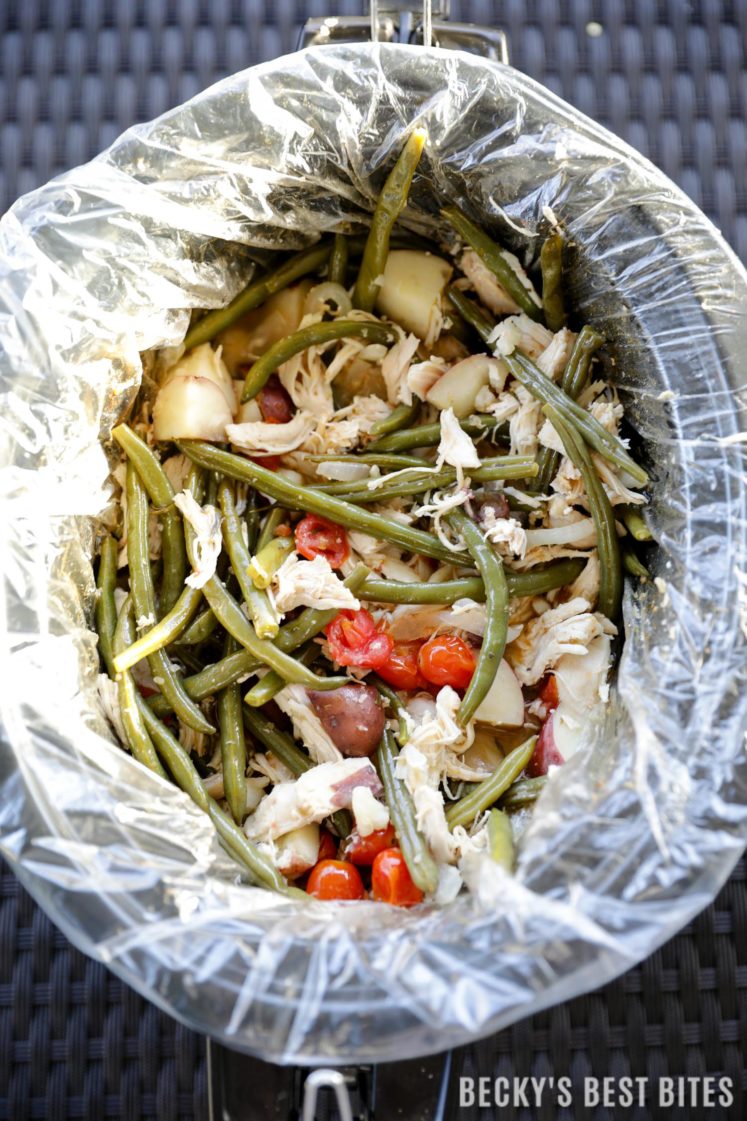 You come home from a long day at work and THIS is waiting on you!! How good it that???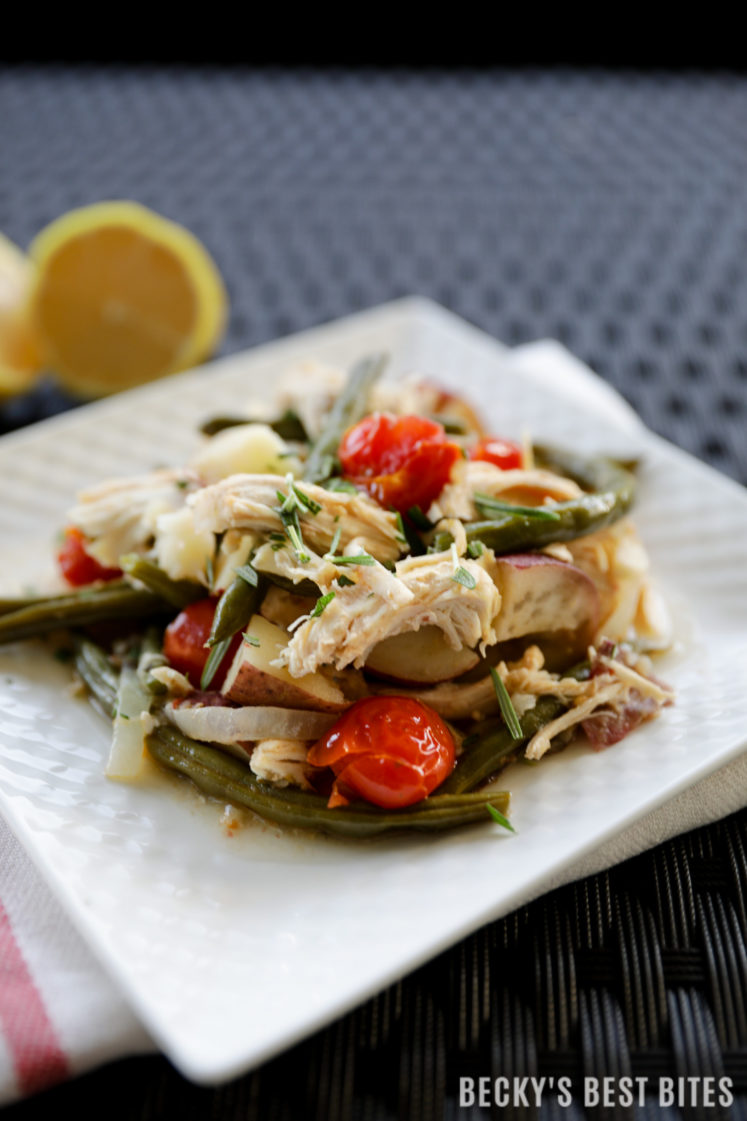 Even Baby Girl put her stamp of approval on this Slow Cooker Greek Chicken with Potatoes and Green Beans!! I knew she would like the potatoes and green beans (two of her favs) but I have been struggling with eating any meat. I guess my Baby Girl is a bit like her Mama in that aspect (I can really give or take meat). However she did eat some of this chicken! 
Here is your recipe for Slow Cooker Greek Chicken with Potatoes and Green Beans:

Slow Cooker Greek Chicken with Potatoes and Green Beans
An easy and healthy recipe perfect for a weeknight family meal.  You only need 10 minutes of morning prep and dinner will be waiting when you get home that evening 🙂
Author:
Becky's Best Bites
Ingredients
1 large sweet onion, sliced
3 cloves garlic, minced or pressed
3 boneless, skinless chicken breasts
1½ lbs. small red new potatoes, washed and chopped into bite-size pieces
1 lb. fresh green beans, washed and trimmed
2 cups fresh or 1 can diced tomatoes (I used grape tomatoes)
2 tbsp. extra virgin olive oil
Zest and juice of one lemon
1 tbsp. fresh rosemary, chopped
1 tsp. dried oregano (1 tbsp. if using fresh)
1 tsp. dried thyme (1 tbsp. if using fresh)
Sea salt and fresh ground pepper, to taste
1 cup reduced-sodium vegetable or chicken stock
Instructions
Line the bowl of a slow cooker with a slow cooker liner or spray liberally with nonstick cooking spray.
Add onions and garlic to the bottom of the bowl.
Add chicken breasts on top of onions and garlic.
Add potatoes on top of chicken.
Add green beans and tomatoes on top of potatoes.
Drizzle olive oil over the top.
Add lemon zest, lemon juice, rosemary, oregano, thyme, salt a pepper.
Pour stock over everything to combine.
Cover and cook on high for 3-4 hours or low for 7-8 hours.
Once chicken is cooked through and potatoes are tender, stir to combine and break up chicken. Use two forks to shred chicken, if desired.
Serve hot and enjoy 🙂
If you enjoyed this 
Slow Cooker Greek Chicken with Potatoes and Green Beans, you might want to check out some of my other slow cooker recipes: